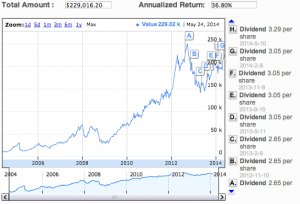 Warning: the API for dividends was deprecated a few months back and there isn't a ready replacement.  We'll post a new calculator if that changes, but please manually calculate the last few months!
This stock return calculator with dividend reinvestment (DRIP) automatically grabs stock data from our friends at Quandl and estimates how much a position would be worth if the stock was held and all dividends were reinvested between two dates.  At launch,we support around 15,000 unique tickers for as far back as there is data.  See the full list here, but if it's on the NYSE, NASDAQ, or AMEX there's a very good chance this will work.
(Editor: double check if the numbers seem 'off', dividends and splits sometimes come to us incorrectly filed!)
The Stock Return Calculator with Dividend Reinvestment (DRIP)!
How To Use the Dividend Reinvestment Calculator (DRIP)
Note: a date in the future doesn't mean this calculator can see the future.  It is just rounding to the closest snap-point.
Stock Ticker: Enter a valid ticker (case doesn't matter, just don't add spaces).
Starting Amount ($): Enter the amount of the initial investment.
Starting Date: Enter when the investment was first made.
Ending Date: Enter when the investment was sold (or date to check the accumulated value).
Advanced Options
Reinvestment ($): The amount invested in every period selected from the pull-down below it. (DRIP)
Frequency: How often the dollar cost averaging/paycheck contribution went into the stock.
Results
Total Amount: The value of the investment on the ending date.
Annualized Investment: Our estimate to the amount returned annually by the investment, including the dollar cost averaging.
Graph: The value of the account over time – drag your cursor over points to see value on a date (sorry mobile users)
Dividends: All of the dividends in the time in question, along with their amounts.
Sources
Quandl Stock Data
Quandl SEC Dividend Payout Data
(Fallback) Yahoo! YQL Finance API

Note: for Canadian stock, Yahoo! is the tool's first choice
Notes About the Stock Return Calculator (Read Before Emailing)
Give it a second, it's going to (three) space(s).  That's what the spinner represents – it shouldn't take more than 15-25 seconds.
This information is for informational purposes only.  Please verify all information produced by the tool independently.
Stocks will not update more than once a day, and they snap to the closest week and trading day.  So, no calculations for days that the markets closed, and you get 52 data points per year.
Special dividends and splits can confuse the tool, try to verify the information elsewhere if you think that is what you are seeing.  I can't fix individual stock data, but you can tell Quandl there is an issue here.
Let me know by email or in the comments if you do find a bug.  If the ticker is missing, check this spreadsheet first .  This is our limitation.
The full list of available tickers is available at Quandl – it is not a bug if it doesn't work for a ticker not on that list.
I'll do my best to accommodate future feature recommendations, but remember this is unpaid work.  If you want something better, I'm available to freelance.
Why Bother?
Yes – it's finally possible to automatically make a fair comparison with actual realized stock returns without a huge amount of outside.  The returns we estimate are annualized for easy comparison to our other reinvestment calculators, such as the Dow Jones Industrial Average Calculator, S&P 500 Calculator, the Wilshire 5000 Calculator, and the 10-Year Treasury Calculator.  (Please turn off inflation on those calculators to be comparable – this calculator uses XIRR to produce return estimates.)
This calculator automatically updates on the fly- but please see the notes below the calculator.
For the same reason I wrote our until-today-most-ambitious-web-calculator, our any house real estate return calculator: to make it possible, at a glance, to compare various forms of investment in a fair way.  Just as people who quote housing returns leave out… roughly every single housing expense other than the purchase price, people who quote stock returns usually do so sans-dividends.  That isn't necessary anymore… this calculator will give you the power to actually determine what an investment would be worth over a long time frame, even with the dividends included.  And, further – even with re-investments included.
To our knowledge there is nothing approaching the utility of this calculator on the internet.
But even so, there was a deeper reason why we wanted to create our most epic calculator yet – this article (our 749th published piece) marks our five year anniversary at Don't Quit Your Day Job… !  Happy birthday to us – and here's our gift to you.
Use it in good health, and may all of your investments move up and to the right.  Enjoy the stock return calculator with dividend reinvestment!