What sort of cognitive dissonance does it cause when you read a new post in February and the title contains a data in January?  Whatamess!
Feel like helping push DQYDJ closer to the top of the world (loosely defined)?  We're 2 followers away from 200 on Twitter and 2 likes away from 65 on Facebook.
Carnivals and Featured Links
Thanks to those who linked to us!
Links of the Week!
Oh Yeah, The Republican Primary
Bored with the primary?  We aren't!  In lieu of a Florida breakdown, we will give you this… a total primary vote count.  We reserve the right to bring them back whenever we feel though, haha!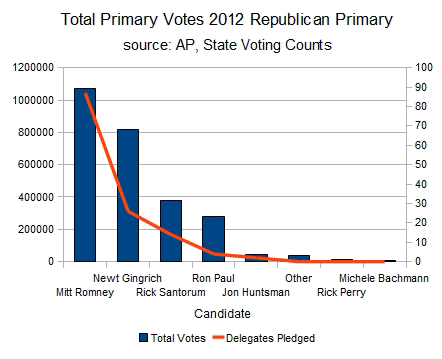 So, Mitt Romney has around 40.5% of total primary votes while Newt Gingrich has 30.89%.  However, Romney has 87 delegates to Gingrich's 26, owing to Florida's double rule break and not awarding proportional delegates.  An insurmountable lead?  Hardly!  Remember, 1,144 delegates are needed to win.  Even though the media (and, well, the betting markets) have heard fat ladies singing, there's a lot of race left.  Also, note that Ron Paul's Iowa delegates are in dispute (along with the Florida delegates).  Let the battles continue!
And remember, you heard about the Ron Paul and Mitt Romney alliance here on DQYDJ first.  Welcome Reason Magazine and The Washington Post to the party!  Who cares if they have between 1,000x and 100,000x more readers (I'm just guessing here…)?  Bring on the recognition!
Buehler?  Buehler…?