San Francisco residents recently voted on Proposition F – a measure introduced on the ballot (supported by community organizers, some landlords and unions representing hotels most prominently) which intended to limit short-term rentals to 75 days annually and allowed a few other provisions for lawsuits against private owners in violation of city law. One of the key arguments for the side supporting Proposition F was that real estate prices and rent were being driven higher artificially by short-term rentals taking the place of traditional long-term rental units.
Had it passed, would it have had the desired effect… driving down real estate prices?
A Historic Rise
The first place to agree upon is whether there is actually a problem.
As has been written here (and many other places), home affordability in the Bay Area is among the worst in the world (and certainly, by extension, the country).
Since Q1 2011, home prices have risen ~68% in San Francisco alone. This makes for some eye-catching real estate prices (for example, $1,469,000 for 805 sqft – $1,824/sqft!). With median incomes in the area not rising at nearly the same rate, there is clearly a home affordability crisis occurring in the area.
The natural question is: what should we do about it?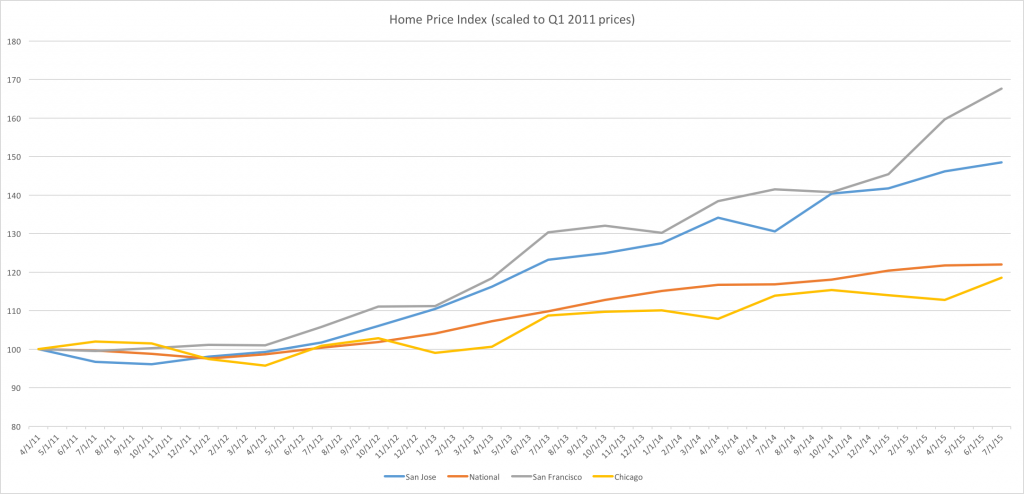 Short-Term Rentals
AirBNB (and other similar services like Rent Like a Champion and Homeaway) offers homeowners the ability to rent out their home or spare rooms (or in-law unit, or yurt, etc.). Many homeowners enjoy the flexibility the extra cash brings for their spare room, easing home affordability on their end. Short-term rentals also allow travelers and those looking for more flexible lease terms the ability to stay in areas not served by traditional hotels, or in price ranges not served by traditional hotels.
It certainly feels like a win-win!
Supply is Supply
Proposition F failed roughly 55% – 45%.
As for the argument: those arguing that Prop F would have helped ease prices would have to prove a few things (and this author is not willing to take on faith or anecdote):
AirBNB (and short term rentals or speculators) is preventing a significant portion of units from being placed for sale or long-term rental
This issue is impacting every single city similarly (after all, Chicago allows AirBNB and speculators – how come they haven't seen the growth in real estate prices?)

Perhaps a study that shows timing of real estate jumps with the release of AirBNB (although this data would undoubtedly be biased and noisy)

Consumers are benefited more by traditional hotels than other short-term rental options
The real issue that is causing real estate growth is the lack of new construction and height restrictions on the city. Due to NIMBYism, there is a culture preventing development of land and restricting the ability to construct upwards for more units ("Because muh view!"). On the bright side, voters have recently shown more of a willingness to approve development projects, a move that should help stem the growth of real estate prices.
Cheers,
Cameron Daniels