Before the primaries move on to Kansas and various territories (the Virgin Islands, Guam, and the Northern Marianas), it's time to take a quick look back at how far the four remaining candidates have come – in both votes and delegates!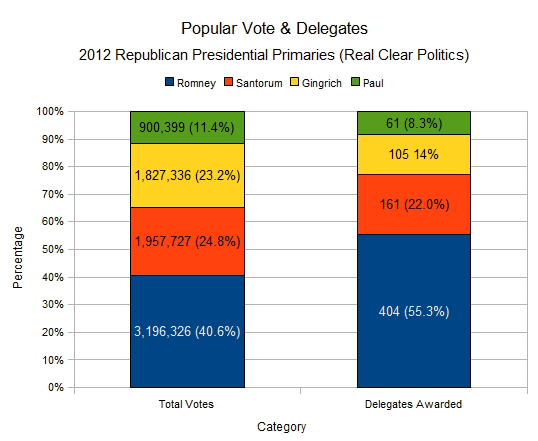 (Thank you Real Clear Politics for adding it up-note the delegate count is subject to change slightly)
As far as your state victories?  Mitt Romney has won 14 states, Rick Santorum has won 6, Newt Gingrich has won 2, and Ron Paul has won 0.
Miles to Go!
As I mentioned, you've still got all of the territories of the United states and 28 more states to vote – including Texas and California which reward large amount of delegates.  To win the delegate count outright, a candidate needs to lock down 1,144 delegates – and if the states keep splitting, it's possible we enter into a weird scenario… potentially a brokered convention.  Of course, at this delegate pace Mitt Romney will eventually lock down the nod even if it comes late in the race – like May.  Considering Mr. Romney does have at least a clear plurality in the popular vote, albeit a thin one, May seems like a reasonable time to find out.
Of course, a brokered convention will be interesting… especially in the TV era!
What do you think about the Republican Primaries so far?  Do you want a brokered convention – either for curiosity sake or to encourage a new candidate to enter?  What would your dream Republican candidate be like? (It's perfectly acceptable to answer 'A Democrat!')