No, earnings are not at an all time high in the United States.  With current information, earnings appear to have peaked around the 3rd or 4th quarter of 2014 and have declined since then.
Just like our last article on homeownership which also invoked Betteridge's Law (I swear, we have other rhetorical tricks!), this one also ties into recent political events.  During her Democratic National Convention speech, Elizabeth Warren, Senator from Massachusetts had a section which went like this:
Here's the thing: America isn't going broke. The stock market is breaking records. Corporate profits are at all-time highs. CEOs make tens of millions of dollars. There's lots of wealth in America, but it isn't trickling down to hard-working families like yours.
We were particularly interested in the "Corporate profits are at all-time highs" line – and as more-than-casual observers of the performance of companies in America (isn't that why you follow us?) we decided to look into it.
How Have Corporate Profits Fared in the United States For Public Firms?
We decided to look at corporate profits in a couple ways – first, from the largest public companies, then with the broadest based measures just in-case any trends were a public company phenomenon.  This data comes from Robert Shiller for the S&P 500, and we have aggregated his numbers by quarter then annualized them.  (If you attempt to reproduce the set, average quarterly earnings then divide by 4).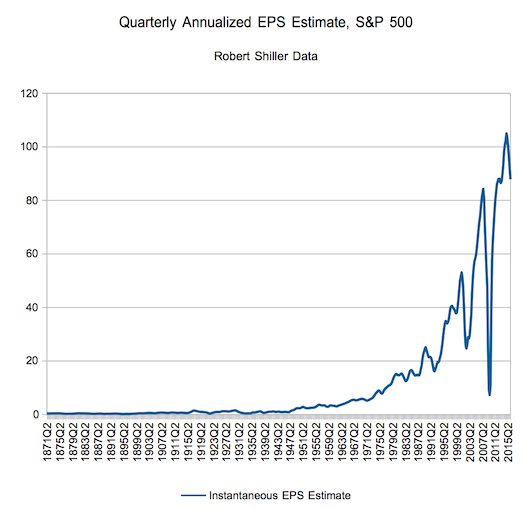 It's impossible to know for certain where that indicator is heading, but this algorithm shows a peak around Q4 2014, and our current reading of 94.1525 for Q4 2015 is somewhere between Q4 2013's and Q1 2014's readings.  (You can explore this data in P/E form in our adjustable CAPE timeframe calculator).
How Have Corporate Profits Fared For All US Firms?
Of course, the S&P 500 limits our scope to (nearly, not exactly) the 500 largest public companies in the United States.  If there was a new tax law or something exclusively affecting these companies we might be missing earnings elsewhere in the United States – so for our next section let's turn to the Bureau of Economic Analysis.
We have two readings here in our chart: the official annual estimate of Corporate Profits after Tax (thru 2015), as well as the higher resolution, quarterly Corporate Profits After Tax with Inventory Valuation Adjustment (IVA) and Capital Consumption Adjustment (CCAdj).  (You can see what IVA and CCAdj measure on page 5 of this NIPA explainer).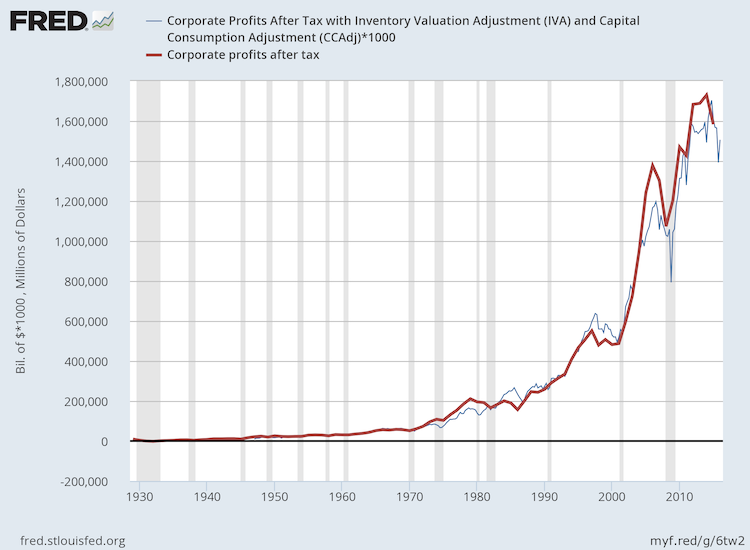 Once again we can see a drop in corporate profits around Q3/Q4 2014.  The lower resolution series also shows Corporate Profits were higher in 2014 than 2015 – and, in fact, were higher in 2012 and 2013 than 2015.  This series may be revised up at some point, but as of right now it looks like we aren't near the top in corporate profits.
Are Corporate Profits on a Downswing?
Eventually, yes, you will see a downswing.  However, it is too soon to label it now… but there is an obvious hitch in corporate profits currently.  And, no, I didn't even adjust for inflation.
Whether that means we're headed for economic troubles or that workers will finally start to see increased earnings (perhaps suggested by the last employment report from the Bureau of Labor Statistics) remains to be seen – but count me as hoping for increased earnings.  You might have other theories – please let us know what you think in the comments.
What do you think the hitch in corporate profits mean?  Are workers capturing more earnings?  Might we be witnessing the start of a downturn?  What else do you see in the charts or in other series?