You don't have to watch television (or a political debate) for long to discover that the United States has a 'historical' balance of trade problem, and there are plenty of Countries which "beat us" when scored by their balance of trade with the United States.  So, let's seriously answer: does the trade deficit matter?
Plenty of causes are given for the United States' "decline in competitiveness", like a skill drain, increased educational opportunities elsewhere, the ratification of NAFTA in 1994, outsourcing, and various other bogeymen that politicians on both sides of the aisle like to trot out.
However, the fact remains that there has been a trade deficit between our country and various other countries recently.  As Milton Friedman said, a sustained trade deficit is the best possible outcome…. we get physical goods like cars, flash memory, oil, computers, toys, and all sorts of other goods for cheaply produced 'paper' known as currency.  His quote was about Japan… but substitute whoever the trade bogeyman is this year to get the idea:
"If the Japanese exporters were willing to burn or bury the dollar bills, that would be wonderful for us. We would get all kinds of goods for green pieces of paper that we can produce in great abundance and very cheaply. We would have the most marvelous export industry conceivable." – Milton Friedman
But Don't Take a Nobel Prize Winner's Word for It…
Thanks to the Census Bureau's record keeping, we can offer you a historical look at our trade deficit.  What you see may shock you, but with all of my leading statements you'll see the point I'm getting at.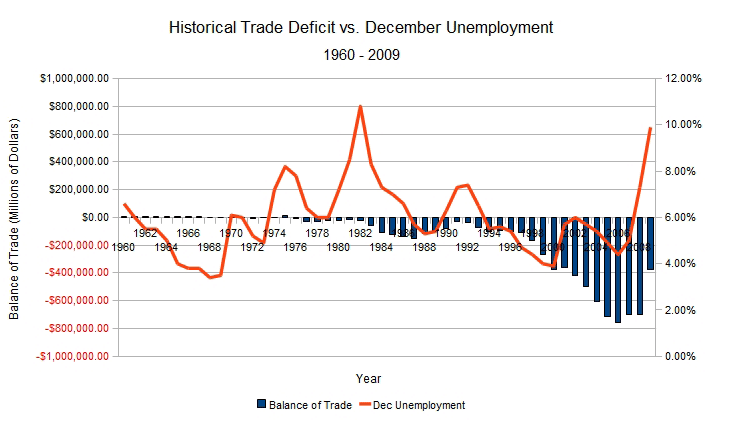 Contrary to popular belief, the economy (as measured by unemployment, that is) tends to do better when the balance of trade is negative.
In fact, when the balance of trade starts to contract, that's when unemployment increases.  Extending the analogy further, during the Great Depression, which no one would ever argue was a time of great prosperity in the United States, there was a surplus of trade every single year.  Still worried about China?
Does the Trade Deficit Matter?  Does it Help?
Correlations and causations aside, on the whole.. the trade deficit has been good for us.  The only argument you can make against the historical statistics is "we are measuring wrong".
Phrased another way, I can probably convince you:
You probably have a decently decked out residence.  Are you concerned about your trade deficit with Target or Walmart?
Now answer: Does the trade deficit matter?