It wasn't that long ago that we featured an article here at Don't Quit Your Day Job about gambling in America.  Knowing that 5.566% of our visitors are Canadian (for the record, 70.175% of visits originate from America and .474% are unknown), I figured we should shine our flashlight on the Land of the Loonie.  Let's look at gambling in Canada by income bracket.
(For the uninitiated, that's the currency, not a comment on our northern pals).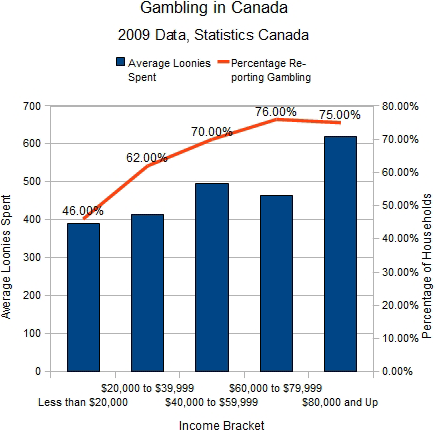 Self-Reported Gambling in Canada

When we did the American stats, you recall we had single digit participation rates since I was only tracking gambling and lottery winners who reported gambling earnings on their tax returns.  The Canadian statistics are self reported (and the information is compiled by Statistics Canada), and the latest data I could find is from 2009.  The result?  Participation rates well into the double digits.  The only caveat is that Canada actually doesn't require lottery winners to declare lottery winnings as income – which probably has some behavioral effects not mirrored in Canada's southern neighbor.  Still, demographically similar Canada (similar to the United States, that is) also seems to show that the label "poor man's tax" is a misnomer:

Once again, even with a different methodology, we see that gambling is a hobby enjoyed more by the more well off income brackets versus the lower income households.
So now you've seen it from two angles – reported income in America, and reported behavior in Canada.  I'll see if I can dig up some more data on the US side of the border – and please weigh in with anything you can find in the comments!
Readers, do you gamble?  Are you Canadian?  Even if the answer to both questions is no, weigh in in the comments!