Last month I wrote an article celebrating my occasion of hitting $1 net worth. This month my net worth has skyrocketed to $3,481. This provides an RoE of 348,000%. Now I know that most personal finance writers assume returns closer to 5% for most of their investments, so I will temper my expectations down to only about 300,000% monthly until I'm retired. At only a 300,000% RoE pace for the next few months, I should have over $10million by Thanksgiving and be above $31 billion dollars for Christmas. I hope my family will accept small Caribbean islands as gifts. Or perhaps flights to space.
To many it seems impossible to attain such significant numbers, but the key is a powerful tool called leverage. Leverage is simply the ratio of your assets to your net worth. The more debt you have, the higher your leverage will be. Last month I mentioned that my financial leverage, my ratio of assets to net worth was hovering around 43,000. If I can then attain a 10% RoA indefinitely, I should be able to recreate a 430,000 RoE until I need to retire in a few weeks. This month, my RoA was about 6% which is slightly below expectations which implies I should be able to beat these lofty returns going forward. As you can see from the graph, RoA slopes massive returns but leverage is even more important as it grows exponentially the closer you are to worthless.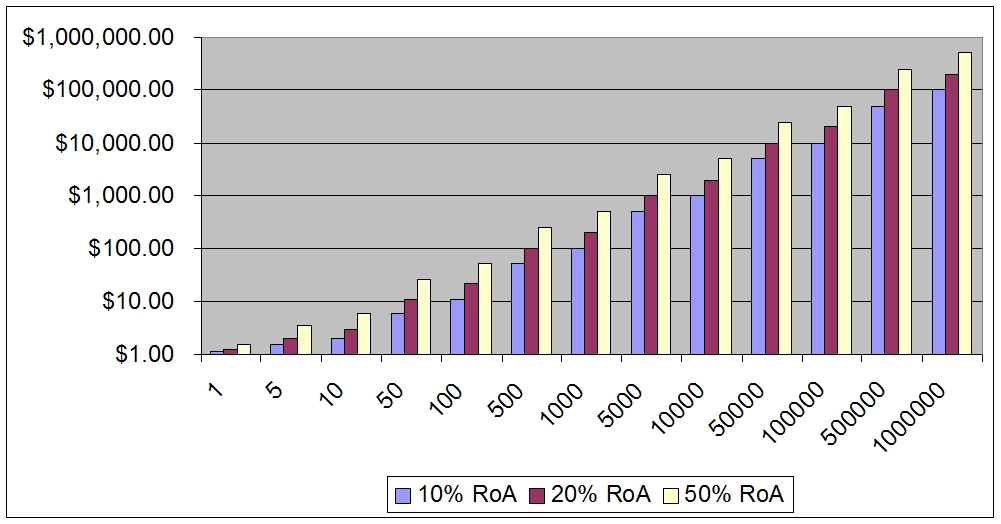 Financial institutions and other large companies have received flak recently due to their massive leverage ratios. But it is necessary for them to turn their small returns into massive gains. There is no downside risk! I can only imagine how fast Long Term Capital Management or Bear Stearns would have gone under if their leverage ratio was closer to 20, as opposed to 100+! Investors and regulators sure do not know what they are doing nowadays. By this metric, I plan on putting all my leveraged money into leveraged companies such as Domino's Pizza, AMC Networks and Cablevision.
The big problem with this method, however, is that as an individual it is difficult to maintain a massive amounts of leverage. I was able to compile such an impressive leverage by doing stupid things while I was younger like attend college and get a job that needed a car. But, moving forward, it will be difficult to convert that $3000 of equity into $9,000,000 more of debt (to maintain a healthy 3000% financial leverage). I might try to get an installment loan or perhaps a $0 down low interest rate equity loan on my car. I have lots of plans on what to do with these assets and plan on plunging full-speed into the exciting world of MMA-gambling and timeshare investing. I heard that Muncie, Indiana has some wonderful timeshares.
Cheers,
Cameron Daniels