Remember Beanie Babies?  Those adorable little stuffed (with beans!) animals which set off a crazy toy bubble of epic proportions, right before the ensuing Tickle Me Elmo bubble really took off.  Yep, the 1990s were bullish for toys every bit as much as they were bullish for technology.
Around a year ago we warned you folks, as a dispassionate (about Canada, that is) observer from another real estate market slightly unhinged from fundamentals, that Canada's real estate market was, if not a bubble, eventually unsustainable.  Tipped off by a Canadian blogging friend about a particularly bullish blog post from a few other Canadian bloggers, we decided to revisit the stats we posted a year ago.
Our take?  Beanie Babies.
Hear me out.  At first, you've got a cute toy which fulfills the need to be entertained and should fit into a child's allowance budget.  Somehow, that eventually morphed into "a collectible investment" where the product's fundamentals didn't match the price it could support.  Of course, nothing changed until Ty threatened to stop production – it's impossible to say what can stop Canada.
Canada Vis a Vis America
One of our most creative (perhaps hated?) charts from the original article compared Canada to their southern neighbors: the United States.  By starting the clock at January 2000, you avoid any weird effects of the bubble – and can compare the infamous American bubble to what's currently brewing in Canada.  So, let's kick it off with normalized prices since 2000: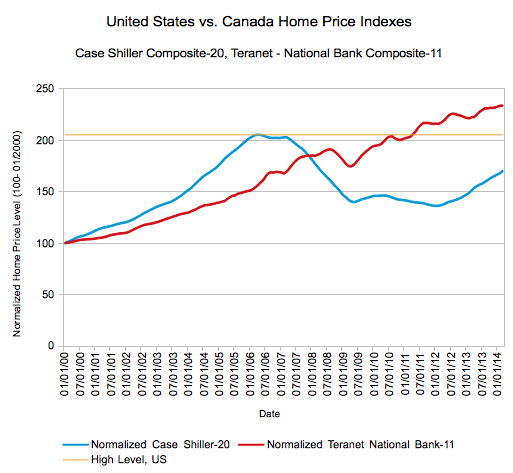 Yep, as you can see, Canada's been above US bubble levels for three years now.
Last time, we also showed you our calculations for various ratios of debt to GDP.  Let's reprise those calculations, (which, strangely, take quite a few tables to put together):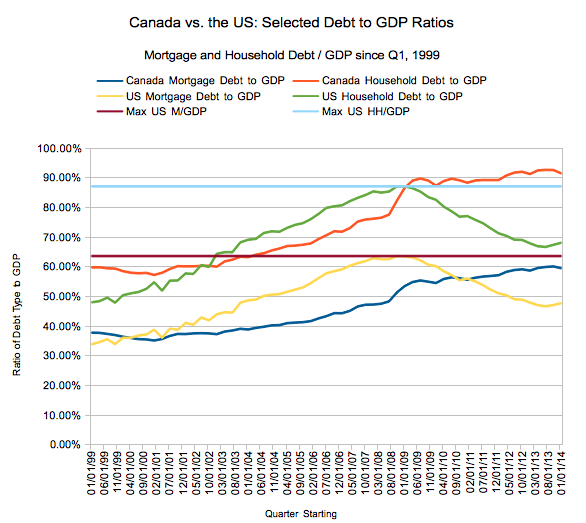 At a first glance, it's interesting that although Canada's consumer debt is higher than the US peak, their proportion of mortgage debt to GDP is lower.  For the US explanation, turn to student loans – which currently are pushing $1 trillion in outstanding debts.
Regardless of how you slice it and student loans aside, Canada's in uncharted territory on consumer debt and real estate prices.
Sources
Canada expenditure based current dollar GDP: Statistics Canada. Table 380-0064 – Gross domestic product, expenditure-based, quarterly (dollars unless otherwise noted) (CanSim)
Canada Mortgage and Household Debt: Statistics Canada. Table 378-0122 – National Balance Sheet Accounts, credit market summary table at book value, quarterly (dollars) (CanSim)
Household Debt Indicators from the New York Fed
(note, pre-2003 data is a separate download).
So, What's Up for Canadian Real Estate Now?
Just the facts, ma'am – in many ways, current Canadian real estate prices are more juiced than United States prices of the mid 2000s.  You're looking at prices higher than US peaks, you're looking at similar mortgage to GDP ratios, and you're looking at higher indebtedness in the Canadian population than was ever seen in the United States (well, at least as far back as the data goes).  Assuming our two great nations are somewhat decent analogues, that can't be a good sign – considering, of course, what the United States recently went through.
Last time we wrote this piece (a year ago, that is), we snarkily linked to a number of articles proclaiming that, yes, "this time is different!" in Canada.  We won't bother this time – the reason this article is even being rewritten is by request since there have been a few (charitably!) questionably bullish real-estate-advice-giving articles posted by Canadian finance bloggers in the recent past.
It's never different, even if we can't pinpoint when a correction will start. But, learn from the lesson of Beanie Babies and heed the words of Herbert Stein:
Things that can't continue, won't.