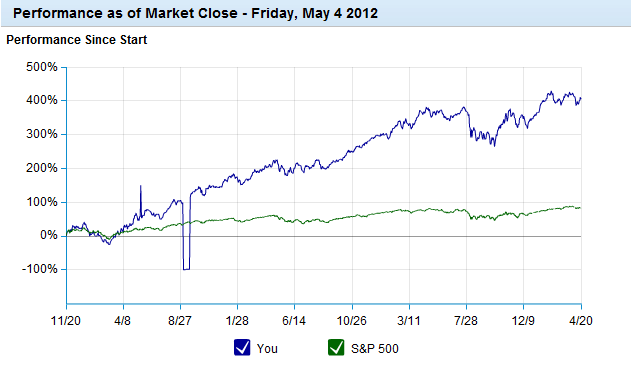 If you read my recent article on my returns as an active investor, you'll note that for years I invested in mutual funds before ever putting a single dollar into an individual stock.  Although I knew active investing was an option, I purposely delayed to become more comfortable first.
I mean, what gives?  At what point did my confidence (ego?) allow me to make the leap from a passive investor to an active investor?
Thousands of Pages of Reading on Active Investing

I tend to over-analyze a lot of things (do you read this site?).  Since the day I started investing I knew that eventually I would have at least some of my portfolio in individual stocks.  I started investing as a low emotion, low information investor years ago, and put all of my investments into stock mutual funds in my 401(k).  Here is how I got that idea:
Me (on phone with my father): Dad, what's a 401(k)?
Dad: A section of the tax code and a retirement account.  Do you get a match?
Me: Yeah, 4%.
Dad: You're young, so contribute at least up to the 401(k) match, and if you get interested in this stuff you can eventually move it.
Me: Sounds dumb, but okay.
Of course, he was the smart one, and I was just a naive intern at the time.
That summer was when I "became interested in that stuff", and I started to devour everything I could read.  Most of my research at the time involved buying books, and I still have my dogeared copies of [amazon-product text="A Random Walk Down Wall Street" type="text"]0393340740[/amazon-product] and later [amazon-product text="The Intelligent Asset Allocator" type="text"]0071362363[/amazon-product].  Of course I read all the Bogle books at that time, and basically anything related that I could get my hands on.  One book, however, was not like the others… [amazon-product text="The Intelligent Investor" type="text"]0060555661[/amazon-product] by Benjamin Graham.
Buy Individual Stocks?  You don't say…
At the risk of sounding like some of the earlier books in the King James Bible, Graham begot Graham and Dodd who begot Buffett, who begot Lynch who begot others, on and on.  From that point until today, I have pretty much only read books on investor psychology, derivatives, and investing in individual stocks (and other securities).
The hardest part was not jumping into the markets until I thought I was ready.  I had all of this book knowledge, but like Matt Damon in Good Will Hunting "There [was] nothing [I could] tell [you] that [you] can't read somewhere else."
Obtaining Practical Knowledge With None of The Risk
Years after I had started investing (and yes, years after I had started reading about individual stocks) the Internet investing community had matured to the point that some web sites held stock contests.  I finally was able to put my knowledge to the test – but, alas, most contests had a short term view of the markets.  It wasn't until web sites started offering longer view portfolios that I started caring.  One such portfolio tracking tool was at Morningstar, and I still have some of my early test portfolios saved on my username.
The Updown Portfolio I have above is the only portfolio I still touch, fantasy wise, because I like to compete with some of my friends head to head and let it track my trades for me.  The graph above is from November 2008 through today and shows roughly a 121% annual return (take that, S&P 500).  Even though, as you saw in my last article, I couldn't quite touch that in real life (to say the least) I still highly suggest you spend at least a year or two with a fantasy portfolio before taking the plunge.  Even if you do well in fantasy, note that:
Just like with a game of poker with no real money on the line, you will take unnecessary risks when you don't have money on the line.  This may make your returns unrealistic.
1-2 years usually means you're only trying your strategies in one type of market.  It takes decades to test a strategy with confidence (if it's a mechanical system, Google back-testing to try your luck).
Luck can also explain excess returns…
Taking The Active Investing Plunge!
If you've got the depth of knowledge you can build from reading books and the internet and some of the experiential knowledge from fantasy portfolios?  You're as ready as you'll ever be.  Of course, I caution you to start small with a portion of your portfolio which it wouldn't be the end of the world if you somehow lost (I'm 38 months in and individual stocks are a bit less than 20% of my net worth).
If you've done all those things?  Welcome to the world of active investing in individual stocks.  Good luck!
Do you invest in individual stocks, if not, will you ever?  When did you buy the first of your portfolio?  What proportion of your portfolio is dedicated to individual stocks?  What do you think of active investing?