The Department of Labor just released new guidelines on overtime rules, increasing the salary threshold where overtime applies for the first time in… a while.  The White House also issued statements on timing: salary based qualification for overtime pay has reduced from covering 62% of workers in 1975, and only applies (statutorily, that is – at the Federal level) to 7% of workers today.   Today, let's walk through the rules and figure out how many people the new overtime rules will affect.
First: The Department of Labor and White House's Estimates on How Many People the New Overtime Rules Will Affect
Let's start with the meat of the new rules:
Raise the threshold to qualify for overtime from $455/week to $913/week (works out to $47,476 a year – over a 100% increase in income)
Indexes that number to

wage growth

, and adjusts it automatically every three years.
Before we try our DQYDJ-based figuring (and dust off some fun, old tools!), let's take  a look at the official numbers from the Department of Labor and the White House's above-linked statements.
Federal overtime protections will be extended to approximately an additional 4.2 million workers under the proposal
The DOL posted an excellent state-by-state breakdown of how many workers they expect to be affected by the new overtime rules: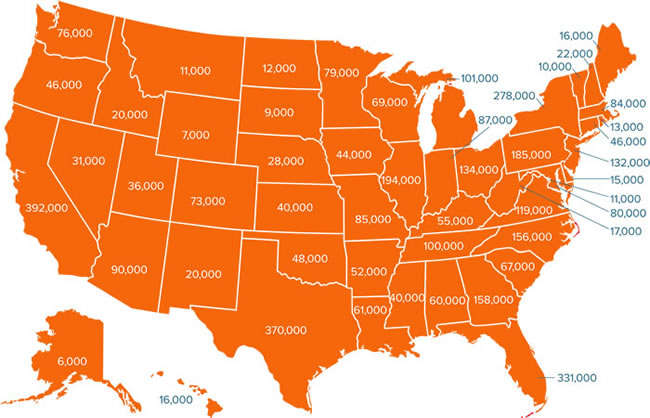 As you can see, 4 states will see the majority of newly qualified people – Florida, Texas, New York and California.  Let's turn to Wikipedia for a population estimate (they are the four largest, fancy that) and look at which of those were affected most by percentage:
| | | | |
| --- | --- | --- | --- |
| State | Population | Estimated New Jobs Affected | Percentage of Population |
| California | 39144818 | 392000 | 1.00% |
| Texas | 27469114 | 370000 | 1.35% |
| Florida | 20271272 | 331000 | 1.63% |
| New York | 19795791 | 278000 | 1.40% |
Although I didn't go through the whole list of states, you can see that Florida has (or, may have) a disproportionate number of newly eligible employees under the new rules.  (And, remember – this rule will only apply to people in the workforce, not merely to the entire population of the state.)
Estimating the Number of Affected Workers from the New Overtime Rule
We have a couple calculators that seem useful for making our own estimate.
The income percentile calculator (currently from 2015 survey data) would work, but it has a number of caveats which means the number will be too high: self-employment, pensions, and lots of other forms of income other than salary.
If we take the 4.2 million estimate at face value, then we can use our workforce size by age calculator to get a percentage of the workforce, by merely looking at everyone from 18-99 in our dataset.  We defined the 'workforce' in that calculator not as a snapshot (like looking at the current unemployment report), but by all people who reported working at least one hour a week in 2014: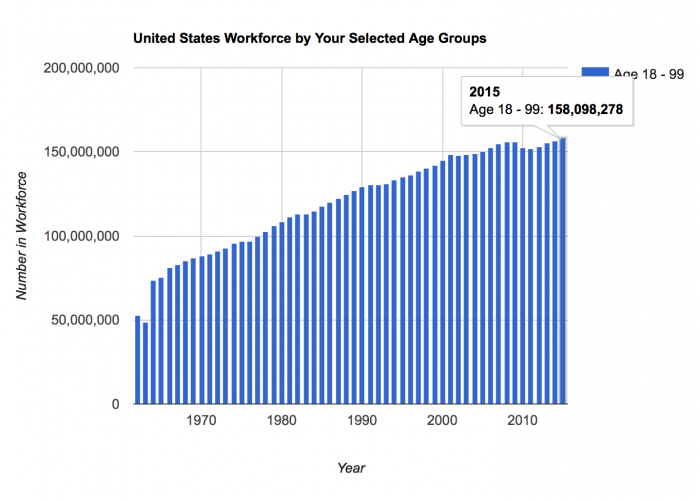 As you can see, our 2015 survey of the workforce, was about 158,098,278 people.  That makes 4.2 million 2.66% of all workers in the population!
Reading deeper from the Department of Labor's documentation on the rule change, 4.2 million isn't their full estimate of affected workers.  They note an additional 8.9 million other workers will receive clarification on their status (read: they could qualify today but are classified in a role that doesn't pay overtime).  That puts our affected workforce in the DOL estimates at about 13.1 million people, or 8.3% of all workers.
This does feel a bit low, or conservative; executive, administrative, or professional workers do not qualify, but a rough estimate from either my above calculator or the IPUMS CPS online calculator puts the potential population over 40 million workers.  Surely many of them are exempt, but 2/3 of workers potentially being excluded or unaffected seems overly cautious.
Here were my inputs to the online IPUMS CPS tool:

And my output, which matches our income percentile calculator roughly (which says 31.8% or so of workers fall between the old and the new threshold):

So, What's Your Guess on the Number of Workers Affected by the New Overtime Rules?
Depending on which estimate you use, here are the estimates:
Low End (DOL):
4.2 million workers, ~2.7% of the working population up to 13.1 million workers or 8.3% of all workers newly affected
High End: IPUMS-CPS, DQYDJ:
As many as 40.7 million workers to 50.3 million workers might see some effect on their job, income, hours worked, or status, unless most are eliminated due to job code or other exceptions.  That's ~25.7% – 31.8% of the workforce newly affected.
But give us your own best guess – most likely the real answer falls somewhere in the middle.  Surely many of the high end estimates will not be accurate because of wage growth, changes in employment (over the 2 years between the rule taking place and the surveys), hourly cuts, or some other reason… perhaps due to state rules or job codes.  Maybe there's a simpler answer, too – some workers in this bracket may already be getting overtime pay.  If there's enough demand, we can dig into the microdata – let me know.
But that's our best guess – between 8% and 32% of workers will see some sort of job changes, or their roles will have some sort of pressure due to the new Department of Labor overtime guidelines.
What's your take on how many people the new overtime rules will affect?  Anything else interesting you saw in the announcement?