It's officially been 196 days since we published our epic post about how the spectre of inflation… well, hasn't appeared.  Our articles on inflation in general (like this defense of low to moderate inflation or this piece on the true inflation rate) seem to go against the grain of some corners of the web – but a fact remains… inflation is the least of our concerns in the near future.
And what makes us so smart when it comes to predicting the future?  Well, the combined votes of millions of market participants, of course!
Raising a Finger to the Wind
Tonight we used the classic method of getting a feel for inflation expectations – we took the constant maturity treasury rates as reported by the US Treasury and subtracted real yields.  This works because the two rates are linked by a single factor – future reported CPI.  This means that any gap between the two is set by market participants who have collectively decided how much that spread should be.
Here's what it looks like, in practice: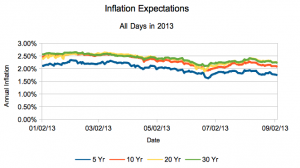 What About Hyperinflation?
If a black swan is defined as an event which no one sees coming, I suppose hyperinflation wouldn't fit the definition.  There are, of course, plenty of people who expect a large shock to our currency – perhaps the Fed acting too slowly to mop up excess liquidity or velocity, or perhaps the Fed ceasing their payments to bank reserves held on their books (which, yes, is hurting people who have savings accounts.  But by all means, keep arguing for emergency funds!).
Or, zombies.
However a hyper-inflationary period would start, it isn't on the collective radars of the market.  That doesn't mean we won't have disproportionate price increases in some sectors (like, say, Bay Area real estate) or even bubbles… but it does mean hyperinflation is still extremely unlikely.  Here are the prevailing market expectations as of September 4, 2013:
| | | | | |
| --- | --- | --- | --- | --- |
| Date | 5 Yr | 10 Yr | 20 Yr | 30 Yr |
| 09/04/13 | 1.74% | 2.07% | 2.23% | 2.22% |
That means that over the next 5 years, the market is expecting a geometric average CPI of 1.74%.  Note that as of today, inflation expectations over 30 years are actually less than over 20 years.
Where Do You See Inflation Clocking In?
So, do you agree with the prevailing wisdom?  Do you think we'll see a period of stability?  Can any 20 or 30 year prediction ever bear fruit?
If I find time, I'd like to try to encode this data into a dynamic calculator/chart type application.  If that sounds interesting, let me know in the comments.