Do you know one of the hardest things to change?
A narrative.
One narrative for why the economic recovery has been so long and hard is because, well, blame the Baby Boomers.  We often come to the defense of Boomers on this site, and we relish our defense role.  Today, again, we rally the stats – even though, yes, we wrote a very similar article last year.
Of course, the narrative remains: one of the reasons for the disappearance of jobs is surely the Boomers, right?  Since that article drew the line at 1994, let's follow with our own 20 year timespan.
Folks, It Isn't Baby Boomers Retiring
Let's go straight to the graphs, the Civilian Employment-Population Ratio and the Civilian Labor Force Participation Rate for Ages 55+ (so, 1958, or, perhaps, 6 years before the end of the boomers, depending on who you ask).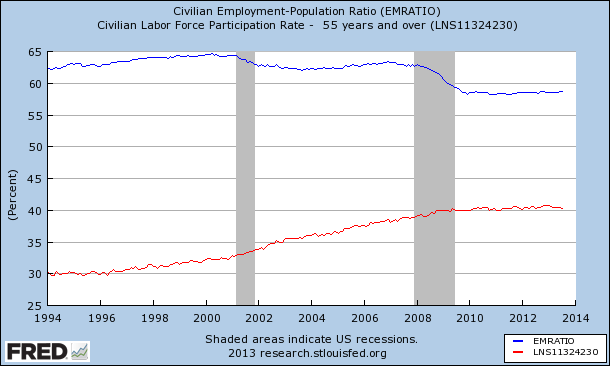 Was that so hard?  In January of 1994, the Civilian Employment-Population Ratio was 62.2% (it peaked at 64.7% in 2000) and the 55+ rate was 30.4%.  July of this year?  58.7% and 40.3%, respectively.
Allow me to translate: 5.6% fewer civilians are working, and 32.6% more seniors are working since roughly 20 years ago.
So, Why Isn't the Narrative Changing?
Beats me.  Even when you throw population into the mix (as I did with our last piece on this phenomenon), you aren't talking a huge change as ages switch between age groups.  Go review that data if you don't believe me.  As for which demographics are getting hit the hardest?  Well, setting aside the fact that, in general, women are doing much better than men, let's look at some other age groups: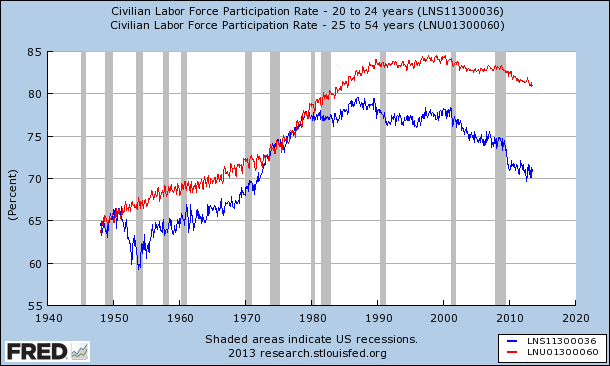 There you have it – while the 55+ set is working, you're seeing a slight falloff in the 25-54 year old age group and a massive falloff in the 20-24 year old bracket.
Allow me to translate: the Boomers are the only generation which is working more.  The narrative is wrong.
So, what do you think?  Will the narrative change?