If I were to ask you Tuesday morning which candidate would attract the most Tea Party support during the Iowa Caucuses, how many of you would have responded with Rick Santorum (who, incidentally lost the Caucus to Mitt Romney by only 8 votes)?  I can see arguments for Michelle Bachmann, Ron Paul (who strangely got a fair amount of coverage implying he had the most Tea Party support), or Rick Perry… but I didn't see this one coming.  And that's just one of the great things we can find out about the actual behavior of voters thanks to the exit polls for the Iowa caucus.  Let me lay out three of the most interesting results I found from the night… and you tell me if they're surprising or you saw them coming…
2012 Iowa Caucus: The Tea Party Vote
First up, the cross-tabs.  Of voters polled, 34% 'strongly support' the Tea Party, 30% 'somewhat support' it, 24% were Neutral, 6% 'somewhat oppose' it, and 4% 'strongly oppose' the Tea Party.  This graph breaks down support for the candidates through each of those self-selected categories: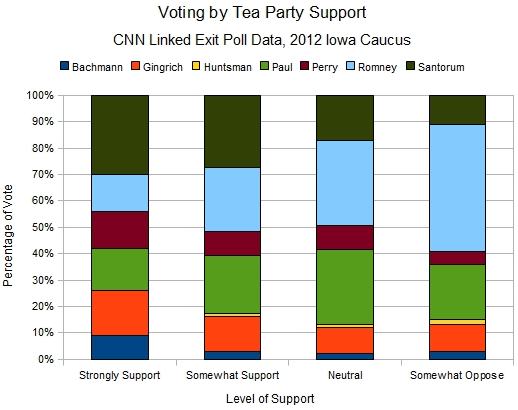 (Note that some categories didn't have enough data to be graphed.)  Santorum's support diped as antipathy for the Tea Party increased – so while the wording didn't ask "are you in the Tea Party", I'm still convinced that Santorum is still the candidate with the most Tea Party support.  Note that there is another item in the poll which divides it into just three categories – support/neutral/oppose.  Also note that Newt Gingrich outperformed his overall numbers among Tea Party supporters.
2012 Iowa Caucus: Voting by Age
This is where Ron Paul showed his true power – the youngest voters who partipated voted overwhelmingly for Paul.  There were 4 categories polled, 17-29, 30-44, 45-64 and 65+ with 15%, 16%, 42% and 26% of the voting population in the poll, respectively.  In this case, I think it was expected that Paul would take most of the younger vote.  Also note that Gingrich did well with the older crowd – which positions him best for Florida (of the next few primaries), demographically.
(Other/No Answer didn't have enough data to be graphed).  The data is also broken down with more granularity elsewhere in the exit poll, but the results are the same: Santorum took the middle age vote, Romney took the oldest crowd, and Paul took the youngest.  Note that in the 45-65 crowd Santorum barely edged Romney.  It'll be interesting to see Romney's performance in that demographic in New Hampshire.
2012 Iowa Caucus: Voting by Alpha Issue
Now we're boiling down to the arcane details of this upcoming Presidential race… specifically, voting by the top priority of the voter.  This is an interesting way to see both what is most important to the voting crowd in Iowa, but also how those voters decided the candidates addressed their concern.  Note that even if a voter lists  a single issue as a top priority, he or she may still vote for another candidate based on the entirety of their platform, electability, or other reasons.  Iowa voters broke down their alpha issues as 13% for abortion, 34% for the budget deficit, 42% for the economy, and 4% for health care.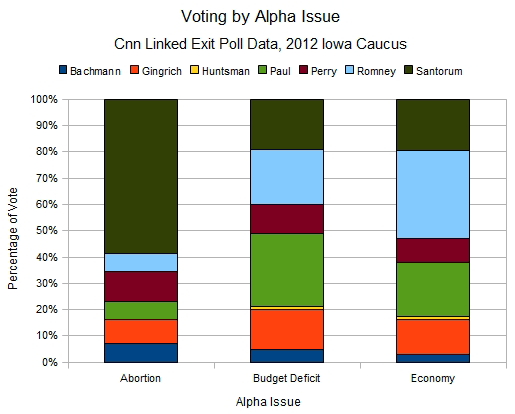 (Health Care and Other/No Answer didn't have enough data to graph) As you can see, Santorum cleaned up (58%) among voters who listed their most important issue as 'Abortion'.  'Budget Deficit' went to Paul while 'Economy' went to Romney, but by much smaller margins.
Onto New Hampshire's Primary!
New Hampshire tends to march to the beat of a much different drummer than Iowa.  In fact, since the Iowa Caucus, Republicans have never had the same winner coming out of both Iowa and New Hampshire (well, except sitting Presidents) – so Mitt Romney can make history, if you consider an 8 vote margin (of over 122,000… if Romney even did pull off the victory) a win!
So onto New Hampshire we go, with only Michelle Bachmann dropping out before that race.  New Hampshire goes to the polls Tuesday.
Who do you think will win the Republican Primary in New Hampshire (Mitt Romney is the prohibitive favorite)?  South Carolina?  Florida?