"Currently, the costs of making the penny and the nickel are more than twice the face value of each of those coins." – Timothy Geithner on Seigniorage
There is a special irony the US Treasury encounters when it comes to coining currency – specifically, small denomination coins cost more in raw materials to produce than the actual value of the coin, a sort of "reverse seigniorage" where every new coin costs the Government money.
We're sure you've heard the quote "greater than the sum of its parts".  In this case, the value of certain coins is less than the sum of its parts… Oy Vey!
Losing Money Due to Seigniorage
How bad is the issue?  According to the United States Mint's Fiscal Year 2011 Report, "Minting and issuing the penny and nickel denominations resulted in a loss of approximately $116.7 million in FY 2011, the sixth consecutive year the penny and nickel were produced at a loss.  That value was compounded by the low demand for the dollar coin (and the fact that this is the 6th straight year where the cost to produce the coins remained above their nominal value).
Here's a chart of United States currency nominal values versus production costs from the US Mint and Federal Reserve: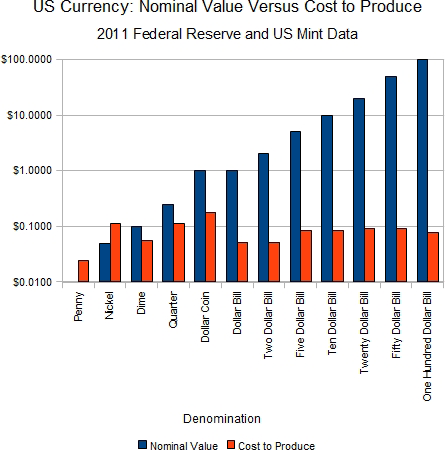 On the Topic of Seigniorage…
In our article, we refer to seigniorage as the difference between the true value of a coin and it's face value.  You'll note that it is actually one method of Government revenue – since in the cases of most currency it actually costs a lot less to coin/print a coin or a bill than the face value of the bill itself.  That relationship reverses itself for the penny and a nickel… to the point that if you took a penny or a nickel and melted it down (by the way, that would be illegal…), it would be worth more than the value of the coin.
Taking it a bit farther, it's why the US Mint encourages collectors to pull money out of the market year after year by issuing collectible coins… but we digress.  What do you think?
What do you think of this interesting inflation consequence?  Should the US continue to issue pennies and nickels?  Do you now understand the topic of Seigniorage (and why the US Mint would love to print $100 bills)?