Well, S&P has finally done it – it cut the credit rating of nine European countries in response to the sovereign debt crisis in Europe. Two of those countries, France and Austria, formerly held AAA ratings, the highest grade which S&P assigns to sovereign debt (read: the lowest default risk). You know that DQYDJ thinks rating the debt of countries is silly because risk (default and debasement/inflation) is already priced in, but let's humor S&P and take a look at how the world's debt ratings now stack up. You can also see a similar map from the US debt ratings cut back in August.
Chart of the World, According to S&P Sovereign Debt Rating
S&P breaks down sovereign debt into a number of different categories, with AAA the highest and D being the worst possible.  In between, they allow pluses and minuses (+/-) to denote when a country is on the border between two ratings.  For this article, I have put every category into its own integer and graphed it – with D mapping to a 0 and AAA mapping to a 19.  The complete mapping follows (higher is better).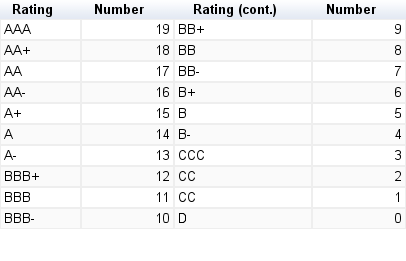 Refer to the above chart to check ratings – but darker shaded countries on the map have better debt ratings than the lighter shaded ones. Now would be a good time to click through to see this slick javascript we prepared for you!
Note, Many Eyes has open data so you can click through that map (or click here) to access what I uploaded. Let me know if you make any derivative work and I'll link to it!
Not. Impressed.
I'm cynical about the whole ratings game, especially at the sovereign level.  Countries have political motivations to shoot the messenger and argue against ratings cuts instead of addressing the issues that led them to the cut.  Also, sovereign nations which participate heavily in the world economy also tend to release the most information about their internal finances.  You might not like the statistics they release, but there's a lot to be said about open books.  It doesn't change our idea, however, that the ultimate country credit score is the yield on their debt, not the letters assigned by some ratings agency.
How about you, dear reader…  How heavily are you invested in the Euro zone?  What's your opinion on S&P or any ratings agency which deals with sovereign debt ratings?  Do you think people are less likely to invest in the larger more transparent sovereigns, (like the US), because S&P cut their debt below another country?  Weigh in below!