A .4 percentage point drop from 9.0% in October to 8.6% in November?  I'll take it!  Maybe there really are green shoots sprouting in the economy? (Look, Bernanke gets a pass for that quote if Greenspan gets a pass for being premature on his "Irrational Exuberance" call)
There are arguments on both sides of the political aisle about how good the unemployment report actually is…  Is the lowered rate really just a function of discouraged workers dropping out of the workforce?  Could the news actually be masking even more encouraging signs?  I'm not going to let you comment before you stare at the charts I produced for you on various measures of employment.  (And yes, if you're in an RSS reader or email, come visit the site to see these things!)
Reading Below the Top-Line Numbers
If you read unemployment releases from the BLS often (I know you exist!), you know that under the top-line unemployment rate and jobs created numbers are a bunch of different metrics on economic measures.  Two that we have touched on in the past are the labor force participation rate (it declined) and the employment to population ratio (it stayed the same.)  Another number you might be interested in: 2.6 million workers were 'marginally attached' in November 2011, but since they hadn't sought employment in the last 4 weeks they weren't counted in the unemployment rate.
Let's kick it off with a graph of U-3 (the topline unemployment rate) and U-6 (U-3 plus all marginally attached workers plus total employed part time for economic reasons).  Note that the unemployment rates have ticked down recently but are still quite high.  Both stats are seasonally adjusted (from the BLS).
And let's take at the employment to population ratio over a much longer time.  Again, from the BLS (but the chart is from the St. Louis Fed).  The employment to population ratio is seasonally adjusted (otherwise it wouldn't be as smooth in the summers).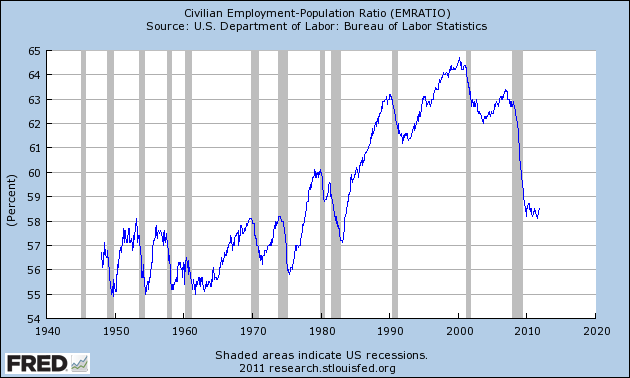 Pretty scary, huh?  Over 63% of the civilian population had been working before the recession, and now the ratio is sitting around 58.5%… a utilization that hasn't been seen since the early 80s.  Is some of that Baby Boomers retiring?  Of course!  But that fall is precipitous – and I don't have hard numbers, but you'd have a tough time convincing anyone that it was all voluntary retirement driving the trend (this chart has everything to do with utilization of the population, and less to do with unemployment.)
So, there you have it.  Only 58.5% of civilians have jobs.  It's your call – is this data good or bad?  Sound off in the comments!