Happy Monday morning!  Did you know that today is the day that the credit card rules enacted in the Credit CARD Act of 2009 go into effect?  Most likely you have seen increased communication from your credit card companies already, as they attempt to predict the effect of the rules on their profit (and change your rates preemptively).  However, I would like to concentrate on one area of the credit card laws which will probably shake things up right away – the new restrictions placed on credit cards for people under 21.
The Credit CARD Act: Limiting Credit to "The Kids", Including Responsible 18+ers

In short, the new rules bar the issuance of credit cards to people under 21 unless certain new conditions are met.  First up is a cosigner – a cosigner over the age of 21 can allow the under-21 crowd to continue to be issued credit cards.  In lieu of that, proof of assets (in an amount determined by the bank) can also get you a credit card.
On the surface, these seem like reasonable ideas.  Either one is completely defensible, and you can come up with a multitude of reasons why citizens entrusted to vote shouldn't be allowed to run a balance (without 21-plus knowledge!).  Maybe you even feel the younger crowd is a responsible set, and 21 is the perfect age to give kids both alcohol and credit.  Either way, you have to admit this will limit the amount of credit issued to  college students – and even young adults working post High School.
Blaming Poor Credit Decisions on Mysterious 'Bank' Evils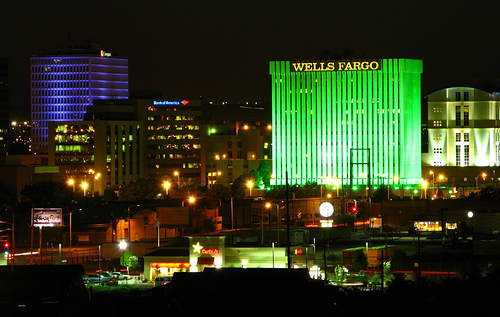 I feel that these provisions are sorely misplaced, however.  The negative actions of a few are no reason to limit the useful tool of credit to everyone.  In the same manner that exotic mortgages like a 5/1 ARM have their place for certain people, credit cards have a use for the college set – increasing liquidity in the absence of regular, repeated paychecks.
Yes, students will sometimes run up massive debts unbeknownst to their parents, but a lack of personal responsibility will manifest itself in other ways in the absence of credit cards.  Hating the tool which caused the damage is the altogether incorrect response.
Of course, the linked CNN article is full of fun little quotes like this one:
"I cannot believe that these card companies were allowed to take such advantage of college kids," McDonald said. "How could they possibly issue cards with high credit limits to kids with no visible means of support."
With all due respect, Mrs. McDonald, you don't have to spend up to the credit limit.
If I spent anywhere near my credit limit I would quickly be feeling the pressure of owing large proportions of my annual salary to a handful of banks.  The blame isn't completely unfounded – I'm all for increased disclosure, a reduction of trickery in due dates, and other informational law changes.
If the banks can't regulate themselves, fine.  However, I'm not so quick to give a free pass to borrowers and claim them completely innocent.  If students are charging multiple spring breaks on their cards, that's a problem of a misuse of a tool – you cant blame Cabo on the banks.
When will these parents, like Mrs. McDonald, shine the spotlight on their adult aged children?  The banks gave them a credit limit because they felt that it was reasonable to expect some payback of the money.  In other words, the bank DID calculate they would get something in turn of lending to Mrs. McDonald's daughter.
(Regardless, read the article.  It presents a fair viewpoint of the effects of the law.)
I may be preaching to the masses of DQYDJ's above average IQ readers here, but it bears repeating – credit is merely a tool.  The fact that you are reading personal finance articles on the internet means you are either in the process of living a debt-free (can we say 'debt constrained' or 'debt limited'?) lifestyle, or in the process of paying down massive debts you incurred at one point in your life.  Your first step was recognizing the problem – you misused the cards.  Your next step is rectifying this problem by living below your means while the cards are paid off.  Whether debt isn't a problem for you, or it will eventually not be one, you're one of the good ones.
For the record, I got my first credit card at 19 years old.  I didn't have a cosigner or even show proof of assets.
Those days are over.  Hail the Credit CARD Act.