As you know from reading this site, the Government is quite a force in the economy – namely, taking in an estimated $2,468,599,000,000 in revenue in 2012.  On top of that, Uncle Sam spent an estimated $3,795,547,000,000!
As you might expect, both sides of the ledger were imbalanced between states – some states pay more or less per capita than other states, and state receipt of Federal benefits and payments was imbalanced as well.  Is this discussion bound to boil down to a "Blue State vs. Red State" battle?  Of course not!  The real answer is: "it's complicated".
I have combined 2009 IRS data on the Individual Taxes (read: mostly income taxes) paid by members of each state, 2009 Census estimates of total state population, and 2009 Federal Spending Distribution data, also from our friends at the Census Bureau.  I've combined it all into a human-enjoyable visualization thanks to IBM Many Eyes (and, as always, my data set is open – click here).
Federal Spending Per State, ex-Defense
CLICK THROUGH FOR INTERACTIVE FEATURE
And The Winner Is?
In the initial version of the map, I had a little issue with the colors of the states.  The cause?  A major outlier in the form of Washington, D.C.
D.C. is such an outlier, in fact, that I had to move it to a separate spreadsheet (Data on Many Eyes here).  With a population of roughly 600,000 in 2009, citizens paid $6,003.01 per capita in taxes to receive $74,987.87 in federal benefits.  Unfair?  Maybe not – D.C. is governed by the U.S. Senate, and has only had a mayor and local government since the early 70s.  They do have their own local taxes – with rates up to 8.5% on income.  Of course, they also can't charge property tax to approximately 30% of their land mass – so no tax on that prime real estate near the Potomac!
With D.C. out of the way, the crown falls to Hawaii.  Hawaii residents paid $2,859.70 per capita and received $13,175.02 in federal funds, for an excess of $10,315.32 per capita.  Bringing up the rear was Connecticut – where $6,097.55 in taxation brought $8,449.85 in benefits.
As for Texas and California, the two states generally referenced as 'Red' and 'Blue' models, respectively?  Both fell into approximately the same spot – Texas was 44th in excess ex-defense spending per capita at $4,191.87.  California was 43rd with $4,292.  Again, you can see the whole list here.
I've boiled it down further: here are the States and D.C. by 'return on investment' (Federal Funds versus Taxes Paid), in graphical form.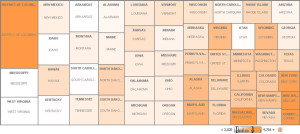 Thoughts?  Questions?  You know where to find us.  If you make a derivative work using the data above, let us know so we can link it!