The concept of the "one percent" has captured the American public's imagination in the last few years. Everything from newspaper articles to policy proposals makes a point to highlight effects on this nebulous upper class. But precise as the phrase seems to be, the majority of folks don't really know what the phrase "one percent" means. Let's try to answer that today: who are the one percent?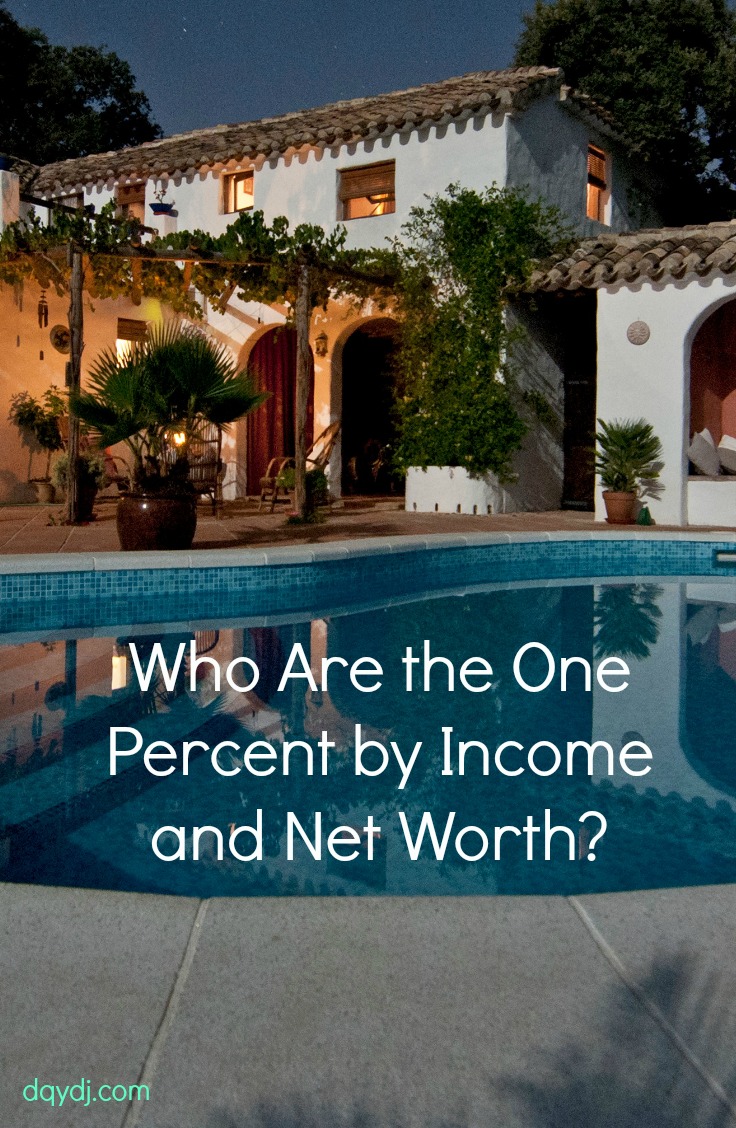 Who Are the One Percent by Income?
Here on DQYDJ we've done a lot of work with income microdata, trying to get a bead on what people are paid in America. Most frequently, that means Current Population Survey data – usually through the ASEC or Annual Social and Economic Supplement, a March survey. The data in this section is from the 2017 survey, which means it is income earned between January and December of 2016.
With around 100,000 data points, it's a statistically significant view of how America is doing. Additionally, for the last few years we've created calculators to help you quickly do the math on America's various income distributions.
Even with this precision, there are still different ways to break it down. Let's briefly look at individual income, household income, and income by sex.
Income of the 10%, 1%, and .1%
| | | | |
| --- | --- | --- | --- |
| Percentile Threshold | 10.00% | 1.00% | 0.10%* |
| Individual Income | $108,033.00 | $300,800.00 | $1,099,999.00 |
| Household Income | $170,432.00 | $430,600.00 | $1,135,421.00 |
| Female Workers | $88,005.00 | $212,799.00 | $800,000.00 |
| Male Workers | $128,100.00 | $387,853.00 | $1,099,999.00 |
*Note that IPUMS-CPS microdata is top-coded and pruned for privacy reasons, so the top numbers are a bit dubious. Consider the .1% column aspirational… and not terribly accurate!
You can find the original source (and methodology) in the calculators:
In the "too hard to display above but also useful for comparison" category:
Who Are the One Percent by Net Worth in America?
More useful, however, is looking at the one percent by net worth. If we had our way, a view of the top 10%, 1%, and .1% would concentrate more on accumulated wealth instead of affluence. (You know, stocks vs. flows and all that.)
Net worth tends to have an even more extreme spread than income does. While a fairly large number of households in the United States have zero or negative net worth, the same isn't true for income. Household income reflects transfer payments, while the government isn't really in the business of transferring wealth.
(Okay fine, make your capitalized valuations of Social Security arguments in the comments. But… you can't pass it to the next generation!)
This data comes from the 2016 Survey of Consumer Finances from the Federal Reserve, and we originally calculated these for our top American net worths and net worth percentiles article.
Net Worth of the 10%, 1%, and .1%
| | | | |
| --- | --- | --- | --- |
| Percentile Threshold | 10.00% | 1.00% | 0.10% |
| Net Worth | $1,182,390.36 | $10,374,030.10 | $43,090,281.00 |
Which Measurement Do You Prefer for the One Percent?
If you insist on using incomes, we feel that using individual income is the best choice for determining the one percent.
Using household income disguises the true income figure when there are multiple earners in a household – say, two working spouses or a Millennial living at home. It also doesn't account for the spending difference in household sizes.
Using net worth to decide on the one percent threshold is even better.
Necessarily a household measure, household net worth sidesteps spending and cost of living questions because net worth is by definition not spent. That is to say, regardless of household size or location, net worth is always untapped resources. It's a true measure of how much 'extra' a household has accumulated. (It also curves up very noticeably at the top end.)
Net worth data is also harder to come by. There is some correlation between wealth and income, but it's not as high as you might suspect – and it changes by age. Wealth is truly the marker of the highest strata, however.
One interesting stat: going from the top 10% of wealth to the top 1% requires an large jump while income "only" requires a much smaller bump.
So for us, the true measure of the one percent is by wealth.
What's your preferred measure? Who are the one percent? The highest earners, or the best accumulators? Make your case in the comments!