Amongst all the good news in the housing market, here's something interesting: even though there is a massive push to limit leverage in financial instruments controlled by private parties, Congress allows politically connected entities to drink from a different punch bowl.  Today's example of poor risk control?  The FHA, better known as the Federal Housing Administration.  Congress mandates that the FHA maintains at least 2% of their outstanding liabilities (they insure home mortgages) in the form of cash reserves.  For those keeping score at home, that's an implied leverage of 50:1.  Fifty to one would be bad enough – but FHA's reserves actually sit at just .24% of their $1.1 Trillion in insured mortgages.
What is the FHA?
The Federal Housing Administration was founded in 1934 ostensibly to backstop the underwriting of home mortgages (they don't issue, just insure) and improve stability in the housing market.  Historically, the FHA has insured a small amount of outstanding mortgages in the market – previously around 2% of mortgages, but more recently 33% of the market since the bubble burst.  You see, nature abhors a vacuum, as does Congress – with Fannie Mae and Freddie Mac choking on their own mortgage liabilities, the FHA has stepped in to fill the void in mortgage backstopping.  That's a problem because even though Freddie and Fannie continue to suck money out of the taxpayers, the FHA still claims that it is an entirely self-funded operation ("the only self-funded government program!").  Of course, that's because that other 'government entity which self funds', the quasi-independent USPS and the FHA also have implicit backstops – if they get in trouble, Uncle Sam will step in the back them up.  Don't be naive – that $1.1 Trillion in potential liabilities would be tossed on the Government's books no matter how much this site (and you) complain.
Recently, the FHA has actually tried to swim in the Fannie and Freddie swimming pool of prime loans.  FHA's average mortgage now is attached to a borrower with a 700 credit score as opposed to a 620, which was their number just a few years ago.  Their exposure has also swelled to $1.1 Trillion from $305 Billion in 2007.  As our colleague Madhaus at Burbed alerted us to this year – prime mortgages might be the next bomb to drop.  Why, you may ask?  Two words: 'strategic default'.
A Graph of Stupid Historical Leverage
Here's a graph of a few relevant leverages!  Remember: Greece (2010 EOY Data) and Long Term Capital Management were bailed out.  MF Global wasn't.  It's up to you to decide if $1.1 Trillion in potential liabilities is too big to fail.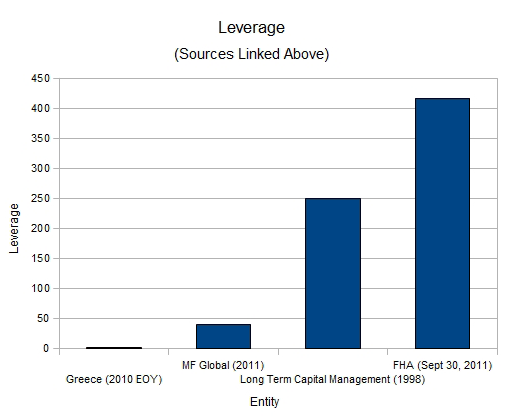 The Next Bubble to Pop?
FHA has moved towards fiscal sanity, starting with their increase in insurance rates in 2011 (they are increasing rates again soon): 1.1% or 1.15% annually (until a mortgage has 20% equity and has matured for 60 months).  Previously it was 0.85% or 0.90%.  Of course, refinancing wipes an insurance paying loan from the books if prices do increase at a rate where 20% equity is reached before 60 months – so even the new terms might not be the magic ticket.  Remember that a bailout can be long and drawn out like it is proving to be with Fannie Mae and Freddie Mac – it doesn't have to be one huge payment.
The problem is that the FHA is still a very good deal for borrowers – one that, combined with the programs offered by some cities, can still let a borrower purchase a house with only one percent down.  Don't believe me?  Check out this program from CalHFA as an example – it creates a loan subordinate to the FHA backed mortgage, allowing a borrower to borrow up to 99% of a house's cost.
How did Canada ever achieve their high home-ownership rates when their government housing entities are so much smaller than ours (pdf)? Is FHA the next bailout?  Discuss!