That didn't take long, did it?
I gave you this rambling post on college major salaries a few months back.  Today I present to you a fresh perspective from the National Association of Colleges and Employers (pdf).  It breaks down the categories a little bit differently, but now that we've got some hard 2011 data you know the DQYDJians demand a graph!
Salaries by Major in 2011
I stuffed three separate pieces of data into this chart - the bars represent the 2011 (orange) and 2010 (blue) average salary for holders of degrees in the category.  The yellow line represents the increase in salary between 2010 and 2011 for the category in question.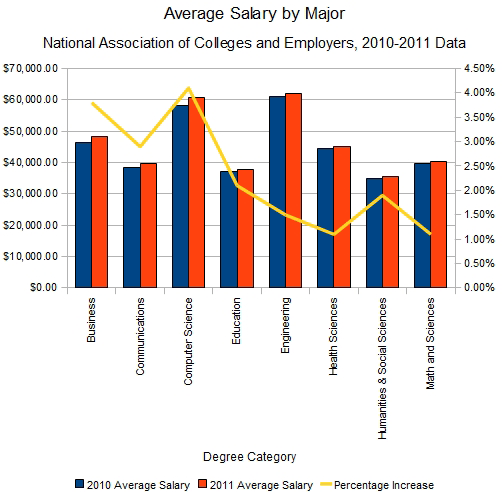 So... Business, Computer Science, and Communications for the win!  Note that the salaries listed are average degrees for the fields, not the 'starting salary' or anything like that (Ed: It actually is average starting salary.  Mea cupla, and thanks to freeby50 for pointing it out.).  Regardless, I'm impressed with the huge gain in Communications salaries year over year.  The 4 top paying categories are Engineering, Computer Science, Business and Math and Science... no "major" surprises there.
The More Things Change...
All in all?  I don't think the NACE survey changes much in terms of suggesting the most lucrative majors.  You would be well served by leaning towards the tech or science heavy fields, or going with a well tested major like Business.  If you dig further into the survey, the best place to be in terms of starting salary is "Securities, Commodities, Funds, Trusts, and Other Financial Investments" (starting average salary: $58,571).  Wall Street wins again!
See anything else interesting in the NACE survey?  If you were advising a young adult entering college, which majors would you suggest they looked at?  Did these numbers change any of your opinions, or are they mostly rehashed versions of last year's opinions?