The San Francisco Bay Area, generally agreed to include the nine California counties of Alameda, Contra Costa, Marin, Napa, San Francisco, San Mateo, Santa Clara, Solano and Sonoma, is one of the wealthiest regions in the United States.  From its powerhouse engineering and business schools to the Venture Capital firms in Menlo Park and Palo Alto; from the financial buildings in San Francisco to the tech firms in Silicon Valley, the region has an immense capacity for generating wealth (and a history of massive booms and devastating busts).
There is a part of the Bay Area, which I'll call the Inner Bay (although I know it is sometimes called the "Real Bay Area") which has an especially concentrated amount of wealth. That wealth is reflected in home prices which are among the top in the nation. In the Inner Bay, consisting of Alameda, San Francisco, San Mateo and Santa Clara County, it's not unheard of for houses around 1,000 square feet to sell for close to a million dollars (or more, in places like Atherton, Saratoga, Los Altos and Palo Alto).
What drives this behavior?  Is the Inner Bay still in a real estate bubble? Is there a huge amount of startup cash creating a floor under house prices? Are foreign buyers creating an influx of real estate money in the RBA? Although those may be factors, I believe that the biggest reason is the large salaries in the Bay Area which allow households to afford the high prices.  Buying a home this year with Redfin, and reading Bay Area centric blogs like Burbed (this calculator is perfect for Burbed commenters!) led me to try to answer the question: "Who can afford these homes?".  Here's your answer.
(Also check out two of our other calculators, the "Home Price Affordability Calculator" and the "How Much Does Noise Affect Real Estate Prices?" Calculator if you enjoy this one.)
How Should I Use This Calculator?
You have to act like the bank and a homebuyer. Put the house price you are looking to purchase ($500,000 was the July 2011 Median in Santa Clara County, according to DQNews), the loan length, and the loan interest rate. You can tack on PMI to the interest rate number if you want to see what Inner Bay Area Households can afford if they "stretch" and put down less than 20%.
Front End Debt To Income is your estimate of what people in the Bay Area consider a safe payment. If a household makes $10,000 a month (gross – ie, pre-tax), a 28% DTI means they can afford a mortgage payment of $2,800. Play with this number to see how it affects affordability.
How Much Money do Households Make in the Bay Area?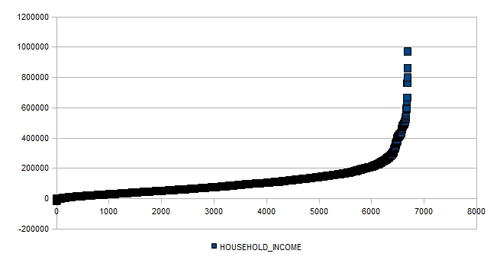 According to tax returns compiled by IPUMS-CPS (citation), the above graph of 6,688 entries in the San Francisco-Oakland-Fremont and San Jose-Sunnyvale MSA represents the unweighted earnings of Households in the Bay Area. (Important note: data in the calculators is weighted!). My income model estimates that the Inner Bay Area has a median household income of $86,620 and an average household income of $110,165.50 across 1,730,166 households. I've input this data in the calculator that follows… enter a salary and it tell you the percentiles and the estimated Inner Bay households that make more and less than that number.
In my recent article on wrongly held ideas in real estate, I described a method that I invented to determine home affordability. Using the so-called DQYDJHAI for the Bay Area, here's what's affordable (by random percentages I picked). The inputs I'm using are 30-year mortgage, 20% down, 4.5% interest rate, and a 31% debt to income ratio. (Why 31% when my other article is 25%? The Government used it as a safe DTI in the Home Affordability Mortgage Program. Also, this is the RBA, 25% is too conservative!  If you don't like it you can change the assumptions in the calculator.  Also note that it assumes all of these households can make the down-payment – it's only testing ability to make payments.)
From the data we can estimate…
75% of Bay Area Households Can Afford a Home Priced at $284,769.90
50% of Bay Area Households Can Afford a Home Prices at $549,981.90
25% of Bay Area Households Can Afford a Home Priced at $920,413.61
10% of Bay Area Households Can Afford a Home Prices at $1,367,502.98
5% of Bay Area Households Can Afford a Home Priced at $1,775,451.33
2% of Bay Area Households Can Afford a Home Priced at $2,896,099.03

Limitations…
First, I know that this calculator is based on household income alone, and it's silly to assume everyone can come up with 20% down payment.  This calculator is mainly determining who can make the payments on the home price you enter.  And what about Internet Millionaires and Trust Funders? See #4, and to a lesser extent #3.
Secondly, the CPS data redacted Santa Clara County information, so my choices were to use data from San Francisco, San Mateo, and Alameda counties, or the MSA's I picked. I live in the South Bay, so I'm biased. Theoretically, I could have used my data and added San Mateo County, then screened out all the duplicates using the CPS ID numbers. If my readers complain enough I'll consider it, but the San Mateo HHI numbers – a $111,591 average and $82,748 median – are close enough to the model output that I'm sticking with it.
Third, the model doesn't do well with the extremes. Using a 4.5% interest rate on a 30 year 20% down payment mortgage and 31% DTI, the model breaks down at ~$4,300,000 dollars. If you get too close to that number, the results will be garbage. The CPS data only had salaries approaching $1,000,000, and very few at that (see the chart above), so the fit isn't as good in that region.
Fourth, this data is missing a fair number of factors which go into buying a home, including current home equity, capital gains, dividends, inheritance, gifts and accumulated assets. I believe the first three can be factored in if someone wants to crunch the numbers – or complain enough that I do it for you. I couldn't find accumulated assets in the 2010/2011 data, but if someone could find a pointer I would be much obliged. Same for gifts and inheritance. Oh, I also can't factor in things like foreign cash influx… If you want to chart the income of the entire world crossed with likelihood of coming to the Bay Area, be my guest and I'll be happy to link to you.
Data Sources
Here is a list of my data sources. Please feel free to crunch the numbers yourself and send me any corrections!
Data was retreived from IPUMS-CPS.
Miriam King, Steven Ruggles, J. Trent Alexander, Sarah Flood, Katie Genadek, Matthew B. Schroeder, Brandon Trampe, and Rebecca Vick. Integrated Public Use Microdata Series, Current Population Survey: Version 3.0. [Machine-readable database]. Minneapolis: University of Minnesota, 2010.
The formula to determine income and the formula to determine income percentile was fit by ZunZun.
Thanks to Cameron Daniels, my co-writer and a Real Economist versus myself, the armchair variety. We don't often collaborate on articles, but he knows his way around STATA, SAS, and massive data sets, so he was a huge help in putting this article together.
Special thanks to Ironman at Political Calculations who provided a template to create the calculators! Without help from Political Calculations the calculators would have taken longer to create than the rest of the article, including the calculations. Go check out the tools hosted at that site.
Any Questions?
That's why I have a comments section. Go wild, especially where you think I messed up. If you have a point I will definitely fix my assumptions!