Last week I posted an introspective report on my own personal savings rate… and ended up on the low side of the savings scale, compared to our commenters!  The top comment of that piece, however, has to be awarded to reader Greg, who linked us to this perspective-altering savings rate piece on Mr. Money Mustache's blog.  So, today let's discuss… what is the best savings rate for your retirement (or financial independence) plans?
(Editor: We've since added an ideal savings rate calculator so you can try to figure out the best savings rate to use for your retirement and financial independence planning!)
It's All A Matter of Your Point of View
It's funny, isn't it?  We have all sorts of guidelines we follow – don't pay more than a certain portion of your earnings towards housing, don't eat more than a fixed amount of calories a day, work out some number of days a week – but there really isn't any sort of hard guideline on how much money you should save towards your (you pick…) retirement or financial independence.
In MMM's post, he hosts a graph from [amazon-product text="Early Retirement Extreme" type="text"]145360121X[/amazon-product] by Jacob Lund Fisker which shows the numbers of years you would need to work to retire comfortably (defined as a 4% withdrawal rate) with various rates of savings and investment returns.  A very interesting graph, to be sure – but I'd like to try to simplify the graph a bit.  Let's look at a basic equation:
'Years Saved For' Based on a Savings Rate x: 1/((1-x)/x)
I don't expect some of you to care to do any math, so I also graphed his take on the best savings rate: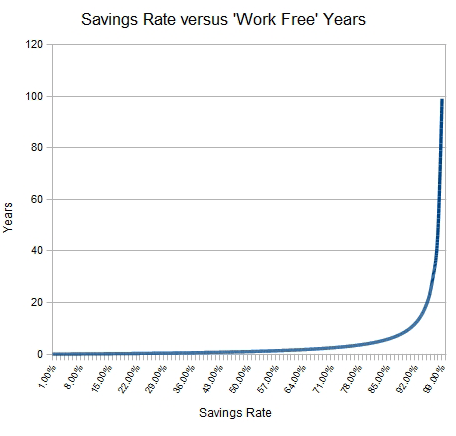 So, what point exactly am I making?  In ignoring investment returns, I'm strictly graphing how long one can live – at some spending rate – off the savings accrued in that year.  To take a random example, say you save 30% of your post tax earnings.  That means you are spending 70% – and 30% buys you .429 years of living at your current rate (let's call it 5 months).
The Utility Of Information on the Best Savings Rate…
I don't think it's realistic to ignore investment returns in any long term burn rate calculations, but as an instructional (and perhaps motivational) tool, it's interesting to look at how long you can sustain yourself with your current choice of savings rates.  Any real analysis would try to look at it from the perspective of a safe withdrawal rate and assume some investment return – unless, of course, this was Japan of last century.
Anyway, check out your worst case burn rate based on your current savings rate – and note that things get funky as you approach a 100% savings rates (yes, if you aren't spending any of your earnings, you saved for an undefined amount of time).
What do you think the best savings rate is?  Is this perspective at all useful, or was it just an excuse to draw a graph going up and to the right?