The title says it all – we've been maintaining and supporting this website for six years as of today.
That's right – six years and 892 published articles (893 now!) taking you all the way from HSA Arbitrage to the median (and 90th percentile) income of females from ages 18-66 over various years since 1992.
I won't weigh down your Weekender with unnecessary odes to ourselves – we'll let the quality of our archives do the talking.
There will only be one post next week, but trust us – it's a huge one.  One a lot of you have asked for… for quite some time.
Late edit: AdSense reminded me  about my blatant money grab on day 1!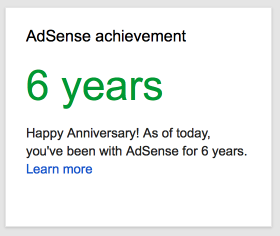 Links We Liked!