The title says it all – we've been maintaining and supporting this website for six years as of today.
That's right – six years and 892 published articles (893 now!) taking you all the way from HSA Arbitrage to the median (and 90th percentile) income of females from ages 18-66 over various years since 1992.
I won't weigh down your Weekender with unnecessary odes to ourselves – we'll let the quality of our archives do the talking.
There will only be one post next week, but trust us – it's a huge one.  One a lot of you have asked for… for quite some time.
Late edit: AdSense reminded me  about my blatant money grab on day 1!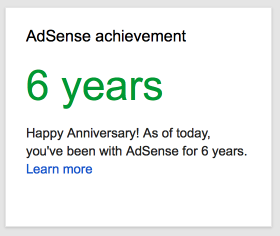 Links We Liked!
What's this?  Active managers generating alpha over the passive S&P 500 in the recent past?
Political Calculations has a very interesting way of graphing company dividend cut announcements – go see how Q2, 2015 is shaping up!
Nelson at Financial Uproar is also celebrating a milestone – 1,000 posts over at Financial Uproar.  (And he started after us!)
San Jose hit a dubious milestone, as chronicled by Burbed: the median "used" single family home is now selling for $900,000.  That's 11x the (very high, nationally) median income of roughly $80-81k.  What bubble?
Speaking of Bay Area real estate, the Financial Samurai recently paid off a mortgage on one of his properties, and reflects on the 'forced savings' aspect of the experience.
From the "Really?" department, people who overshare details about relationships in Facebook statuses have lower self-esteem.
A Wealth of Common Sense charts all of the "called tops" in the current bull market.
Cashville Skyline also believes in a very high savings rate.  Increase yours!
I was shocked to read this advice in the WSJ to wash your clothes after you buy them.  I always figured the "chemicals" excuse was an overreaction – but hey, I'm a convert.
An interesting update from the PoPs on their solar panel install.  Considering I live in California, it's happening here eventually…
Short and sweet from Save.Spend.Splurge: are you on the side of the wealthy?