Two years ago we rambled on about the winner of the Summer Olympics in the afterglow of the 2012 London Olympics.  Today… we'll do it again and discuss the 2014 Sochi Olympics.
Who Won the 2014 Sochi Olympics?
Let's get the easy comparisons out of the way: total medal count and golds: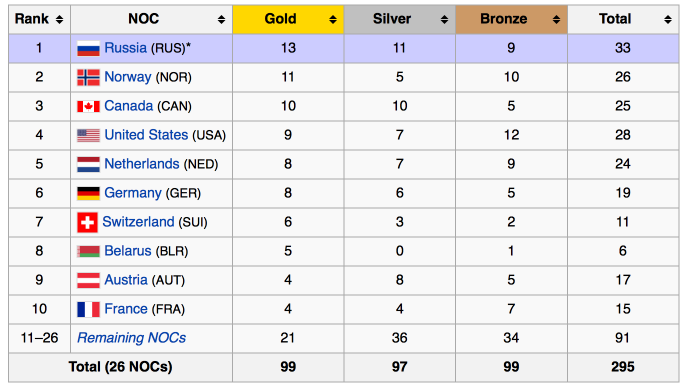 A dominant performance by Russia on both fronts – 33 total medals and 13 golds.  For my American friends, we can at least be impressed with our 9 golds and the "Bronze Title" at 12… although, of course, 5 of those golds came in sports being contested for the first time.
Unification and Historical Footnotes
Dis-unification of Soviet States aside, Russia also benefited from a few adoptions.  Notably, Victor Ahn (with a personal medal count of 4 – 3 gold and a bronze) is from South Korea.  The US even had an unforced error – chasing Vic Wild (of White Salmon, Washington and a winner 4 previous gold medals for America) into the arms of Russia when an underfunded Alpine Snowboarding team couldn't back him for these games…  Can you blame him?
Let's talk about Russia more.  33 medals out of 295 – not a bad count on it's own.  However, it gets more interesting when you start talking about the former USSR.
Including the post-Soviet states, (Belarus – 5/0/1, Kazakhstan – 0/0/1, Latvia – 0/2/2, Ukraine – 1/0/1), and you start to draw a picture of the truly awesome performance (why is Belarus so good at Aerials?) of the former USSR.  15.6% of the total medal count – impressive.
I'll go a step further: modern Russia has competed in the Olympics under 4 banners: the Russian Union, the Russian Federation, the Unified Soviet Union (1992), and the USSR (up until 1988).  Combined, their medal count at the Winter Olympics?  194 + 124 + 0 = 318 medals, which would be second most all time in the Winters, behind Norway.
The United States: A Land of Innovation
Boil those medals down further: 5 of the 9 United States gold medals came in sports which weren't held in Vancouver in 2010.  5/9, and 9/28 in overall medals – call it 'innovative' scoring methods.
Also innovative?  The medal count itself.  98 events were held, but 295 medals were rewarded – 99 golds, 97 silvers, and 99 bronzes.  Yep – tie at the top in the Women's Downhill (Dominique Gisin, Switzerland; Tina Maze, Slovenia), and tie for bronze in Men's Super-G (Bode Miller, USA; Jan Hudec, Canada).
Interestingly, the United States did best in the bobsled – winning 4 of 9 total medals awarded (3 of the bronzes and a silver in Women's 2-Man).  The US took home the bronze in team figure skating, but for the first time since 1936 no American individuals took home a medal.  Biathlon?  Ha.
Notable Performances in the 2014 Sochi Olympics (You May Have Missed)
My favorite performances of the games?  Got to go wonky – Lauryn Williams of the United States and a couple of female Dutch speed skaters: Jorien ter Mors and Ireen Wüst .
Williams is only the fifth person in history to have picked up a medal in both the Summer and Winter Olympics (and she just missed becoming the second to have two golds – by a few hundredths of a second in the bobsled).  Jorien's a funny story – she had been a short track skater, and started long track skating only a few years back… only to dominate the Women's 1500 meter long track, and pick up a team gold in the relay.  Wüst was perhaps the most dominant athlete of the games, though – medaling on that same Dutch relay team, and medaling on every individual event from the 1,000m to the 5,000m – epic.
Let's talk about the Dutch for a second.  The US had their third sweep in Winter history  (1956 – men's figure skating, 2002 – Men's halfpipe snowboarding) in Men's slopestyle skiing.
Not bad right?  Not until you consider the Netherlands – the Dutch had 4 sweeps in these games.  Men's 500m, 5,000m, and 10,000m were all Dutch, as was the Women's 1,500m.  Add to that the fact that there were other Dutch athletes in the top 6 and you start to realize how truly awesome their speed skating teams are: 13 / 18 Men's medals and 10/18 Women's medals went to the Netherlands.  They only won one non long-track speed skating medal – on the short track (Men's 1000m, Sjinkie Knegt, bronze).
A nod goes to Ole Einar Bjørndalen, the "King of Biathlon" and best Winter Olympian of all time (13 medals – also the Olympian who you'd least want to burglarize).  Honorable mentions to Charlie White and Meryl Davis, Sevn Kramer (this Sven Kramer), and a ton of respect to Yevgeny Plushenko – an ancient (by figure skating standards) 31 years old… and considering South Korea 2018.
So Who Won?
I could bore you with a predictable performance per population ratio or another discussion about the relative worth of medals – but it isn't quite fair in the Winter Olympics anyway: not every country can even train for a Winter Olympics.  How, for example, would English snowboarders expect to compete with the rest of the world?
So, until we can normalize by population with access to winter facilities and mountains, I'm not sure it's worth it – plus we'd still have to work around exceptions like the Dutch, who could win a ton of medals in speed skating even if all their medalists hadn't competed (they're that good.).
So – I'd say Russia and the Netherlands… with an honorable mention to Norway.  US, we're on the outside looking in this time.
Who do you think won the 2014 Sochi Olympics?  Let's argue again in two years, okay?