Bitcoin returned 60.27% in 2021, not including any transaction fees. At 7:00 PM Eastern Time on December 31, 2020, bitcoin traded at $28,948. If you sold at 7:00 PM Eastern Time on December 31, 2021, bitcoin was trading at $46,394 per coin.
The 2021 Bitcoin Return: Quite a Ride
Bitcoin really started taking off in September of 2020, accelerating up from roughly $10,000 a coin to as much as $60,000 in the spring. Bitcoin found a trough right under $30,000 a coin in the summer, before taking off again and touching $68,958 on November 10.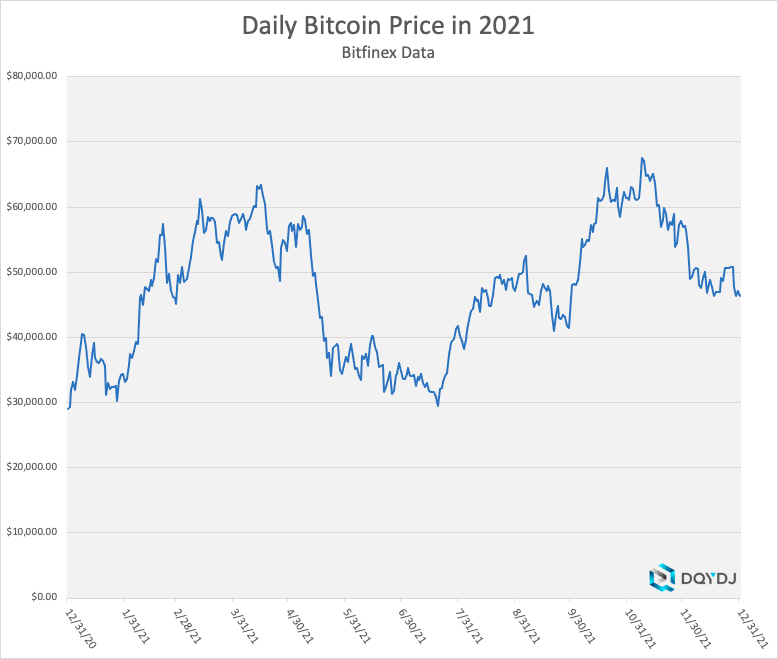 That's all on top of bitcoin's gain of 308% in 2020 and 92% in 2019. In 2018, bitcoin lost 73.56%... but gained a wild 1,318% in 2017.
Try our bitcoin return calculator to see return between any two arbitrary dates. You can optionally adjust for inflation measured by CPI.
Source on the 2020 Bitcoin Return Calculations
I sourced historical bitcoin price data from Bitfinex
Annual Bitcoin Returns Posts: