Two years ago (well, September 28, 2011 anyway), we regaled you on this site with tales about how the Bay Area's home prices – while admittedly quite high – were complete justifiable.  If you don't have time to read those prescient words, I can summarize: home prices may have been high in 2011, but Bay Area households pulled in a ton of income (second only to the Government driven economies around Washington, D.C.), making houses somewhat affordable to many households in the area.
Am I proud of that call now that we've seen 20% year over year price returns in many areas, and 52% absolute returns on the house I purchased in July 2011?  Well, yeah, of course I am.  However, the mark of a truthful person is to change your opinion when presented with new data.  Here's to being honest: the Bay Area is getting pretty frothy.
Household Incomes in the Bay Area for 2013
As I told you in 2011, the Census Bureau has a way-too-expansive definition of the Bay Area: Alameda, Contra Costa, Marin, Napa, San Francisco, San Mateo, Santa Clara, Solano and Sonoma Counties.  Including everything from Wine Country to Silicon Valley may have its perks, but we tend to err on the side of where the action is, like our friends at Burbed (our favorite Bay Area real estate blog!).  On that site, they constantly argue the boundaries of the "REAL Bay Area", signified by articles such as this one.  (I would be more expansive – pulling in all of the peninsula, all of Santa Clara County, and parts of Fremont.)
Well, DQYDJ doesn't have half of the snark skills of the two lead writers at Burbed – so we'll make do with what we can define… the 'Inner Bay Area'.  We have defined that as the Census Designated MSA San Francisco-Oakland-Fremont, along with Santa Clara and San Mateo Counties.  Those are the regions most of you think of as the 'geographically isolated' (by mountains and water) areas around the San Francisco Bay (Sorry, Marin).
Since our skills with R are much sharper than back in 2011, let's lead off with this graph of 20 quantiles of household incomes in that area (weighted, this time):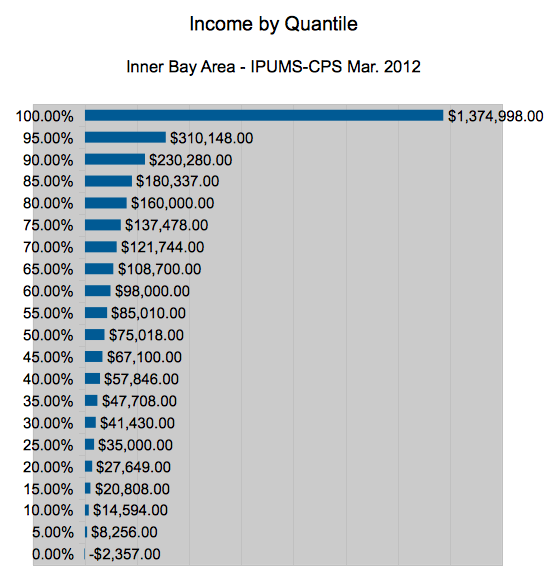 What sticks out?  Perhaps that the 100th percentile is 'only' ~$1.375 million a year.  That's merely an artifact of the CPS data – suffice to say, over $1.375 million in household income puts you into the top 1% of the top 1% of high earning regions – not too shabby.  Median income is spot on where you'd expect it – $75,018 for households in the region.
While it's easy enough to get a rough read on how your household income stacks up, what would a DQYDJ article be without a calculator incorporating the above data?  We took our few-thousand datapoints and used the site ZunZun to curve fit it – so you can enter whatever you want and see how it stacks up.  Neat, eh?
Bay Area Home Prices
Okay, fair enough – people are ridiculously high earning in the Inner Bay Area. How about them there real estate costs?
How about them, indeed.  We turn to our friends at Redfin (who, we might add, are the firm we used to purchase DQYDJ HQ), who bring you this incredible chart of the rebound in price per square foot in Santa Clara County (it's worse in San Francisco and San Mateo County).  Here's a chart of sale prices per square foot in Santa Clara County: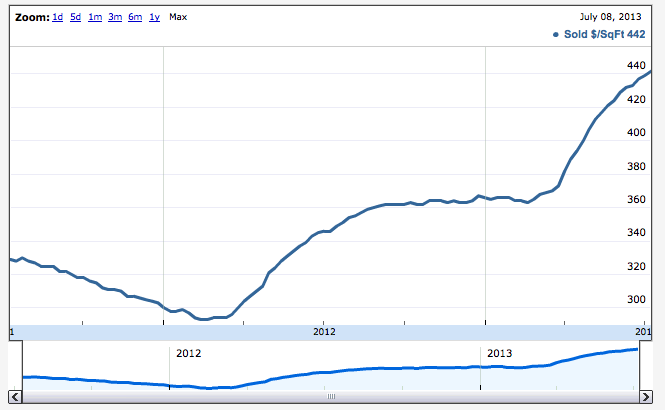 As for the median price, since we used DataQuick back in 2011, let's do it again: the median price for a home sold in Santa Clara County in May 2013 was $665,000.  Wondering how many Bay Area households can afford that?
Luckily for you, there is now a calculator for that!
(We used a 28% debt to income on the mortgage payment – feel free to play around with that if you think people will push the limit a bit.)
Well, not bad – even with our assumptions, 578,319 households in the Inner Bay can afford the median Santa Clara house.  Of course, not everyone is looking in any given year – many already have a house (or, horrors, are happy renting!).  And this of course ignores the effect of foreigners buying houses with suitcases full of cash.
The Bay Area Affordability Breakdown
I know last time people enjoyed my quick summary of what households can afford in the Bay Area – so let's once again quantify what sort of payments are possible on the Bay Area's inflated incomes!
Using our 28 debt to income number, 20% down payments and 4.5% 30 year mortgages (and ignoring suitcases full of cash – domestic or foreign!):
| | |
| --- | --- |
| Household Income Percentile | "Affordable" Home Price |
| 75 | $201,471.21 |
| 50 | $431,831.15 |
| 25 | $791,373.84 |
| 10 | $1,325,576.22 |
| 5 | $1,785,325.59 |
Maybe you have an issue with me assuming 20% down payments for everyone, or the relatively conservative 28% front end debt to income ratio.  Maybe you think I should try to factor in foreigners with briefcases full of cash – regardless, this is a solid measure of affordability.  And, for the record, there are north of 1.7 million households in the Inner Bay Area.
Conclusions – What Do the New Numbers Mean?
Simple, my friends – the game has changed since 2011.  Yes, Bay Area households can still afford a ton, and you should expect to see high sale prices in the area.  But, at the same time, be wary of prices creeping back to their 2007 peaks (DataQuick says for the 9 county region the median sale was $665,000 at the 2007 peak, it is 'only' $519,000 now).
Which leads us to our title.  Is it a bubble?
Bubbles are, of course, notoriously tough to call when you're living inside of one.  I would say that our little side trip into Canadian real estate gave us more evidence of a bubble than this data – but it's impossible to ignore the warning signs at this point.  Here's the best advice I can give you:
If you're thinking about buying in the Bay Area right now – go into it with eyes wide open.
Do you think we've hit 'definite bubble' levels yet?  If you don't, would you agree that a bubble is blowing (again, only 3x% of homes affording the Santa Clara median)?  Am I wrong and 2010-2012 were a 'negative bubble' or anomaly and prices are fair now?  Dump your thoughts on me in the comments!
Sources
Miriam King, Steven Ruggles, J. Trent Alexander, Sarah Flood, Katie Genadek, Matthew B. Schroeder, Brandon Trampe, and Rebecca Vick. Integrated Public Use Microdata Series, Current Population Survey: Version 3.0. [Machine-readable database]. Minneapolis: University of Minnesota, 2010.
The fitting functions were derived with help from ZunZun.
Thanks to Ironman at Political Calculations for the calculator template – beats building it for scratch, like some of our other calculators.