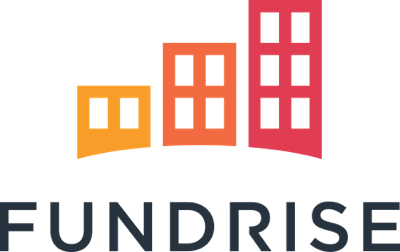 Fundrise offers a low-cost way for you – or anyone – to achieve diversification in real estate in an easy, decently priced, and intuitive way
Opening a Fundrise account means low-minimums, easy-to-achieve real estate diversification and a great customer service experience. Unlike other platforms it has no requirements that you are an accredited investor - even if you're closer to the beginning of your investor journey they have options for you.
We highly recommend Fundrise as an option if you're looking to add Real Estate to your portfolio. With their excellent platform and well-constructed portfolios, Fundrise will serve you well.
About Fundrise: Passive Real Estate Crowdfunding
Fundrise is a real estate investing crowdfunding platform founded in 2010, and it launched its platform in 2012.
Headquartered in the Washington DC area, Fundrise allows users to invest in private real estate development deals. Similar to a REIT, any money you invest in Fundrise goes to individual real estate projects, distributed across both debt and equity positions.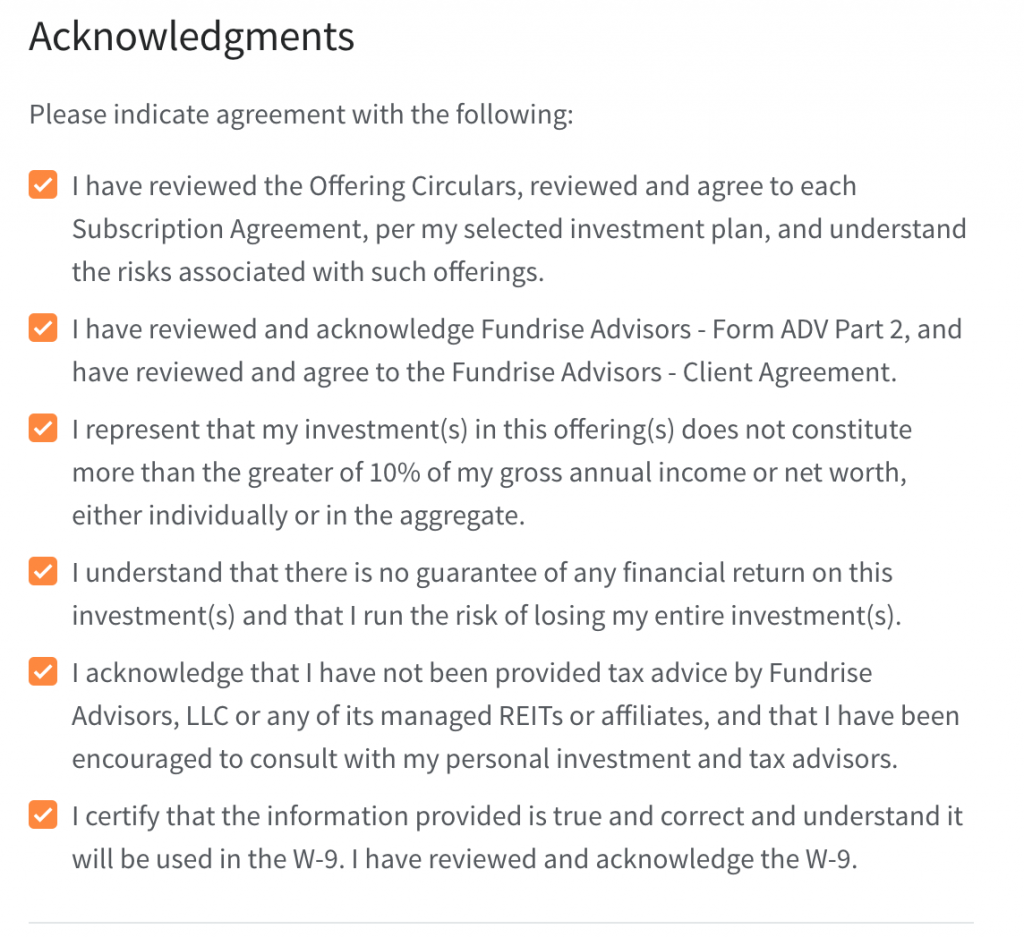 Similarly, your returns in Fundrise are distributed across equity and dividend payments. Monthly, Fundrise updates your equity estimates, while continuously paying dividends.
In my first six weeks on the platform, I had already received an end-of-month equity update as well as daily dividend and interest payouts. Those first 6 weeks pointed to a 0.60% average monthly return... or an annualized pre-tax performance of 7.44%.
Real estate returns are probably best compared to equity returns (see our historical return calculator on the S&P 500 here). They aren't directly comparable though, in exchange for less liquidity, real estate's value tends to be less volatile than common stocks. Historically, real estate investing has been beneficial to diversify a portfolio containing higher risk options (like stock) and safer options (like bonds).
My Fundrise Account Opening Experience
All Fundrise needs for you to open an account is:
An e-mail address,
An address
A funding source.
An account minimum of $1,000.
When you first log in you'll see an array of funding options. The selections offer you a choice to tradeoff between security (short-term confidence) and long-term returns (uncertainty).
Once you've set up and sourced your account, you'll receive a few account opening e-mails (I personally unsubscribed to the news/headlines e-mail list). In a few business days, your deposit appears in your account.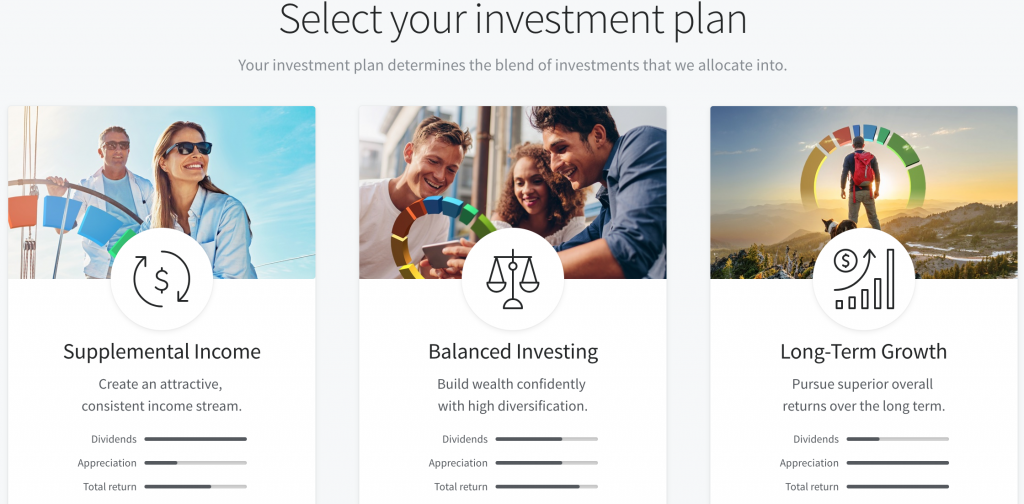 Through Fundrise, I easily found a sample of funds that provided ample geographic and risk diversification.
I picked long-term growth as my goal and Fundrise automatically distributed my deposit to the following funds:
20% Growth eREIT
10% East Coast eREIT
10% Heartland eREIT
50% Growth eREIT III
10% West Coast eREIT
Personally, I wish they allowed me a bit more customization in their real estate investment options. That's probably just be a personal feeling, though – for a beginning investor, their streamlined setup would be an amazing benefit.
Overall though, a list of all of the funds that Fundrise manages would have been helpful. Nevertheless, the simple signup process made the whole account creation experience seamless. It was really an A+ overall.
Detailed Updates on Real Estate Investments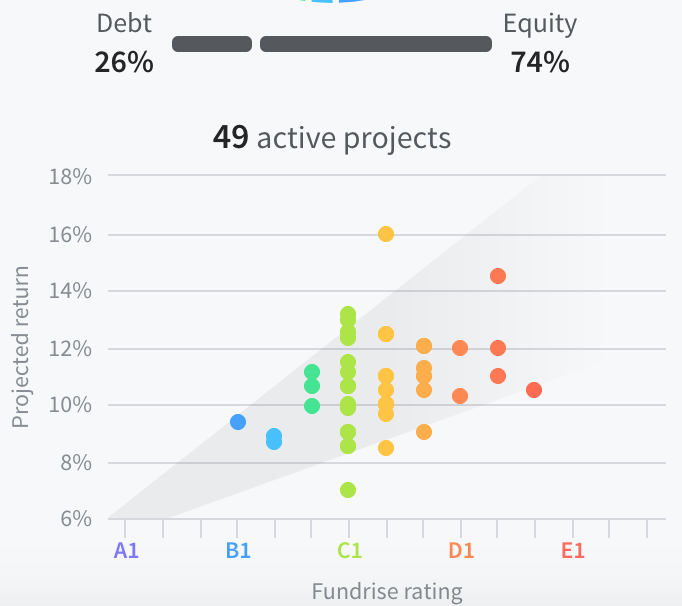 One of the more interesting features of Fundrise is the detailed reports on the individual deals signed in your funds. I have received updates on real estate deals and have even received an updated report on a completed project.
Since their deals are composed of both debt and equity, it's useful to keep track of what percentage of your returns comes from either. Some of your return will come from dividends and some will come from valuation changes.
Take note - for some investors, this is fairly tax-inefficient. A fair amount of the income that comes through the periodic dividend payments.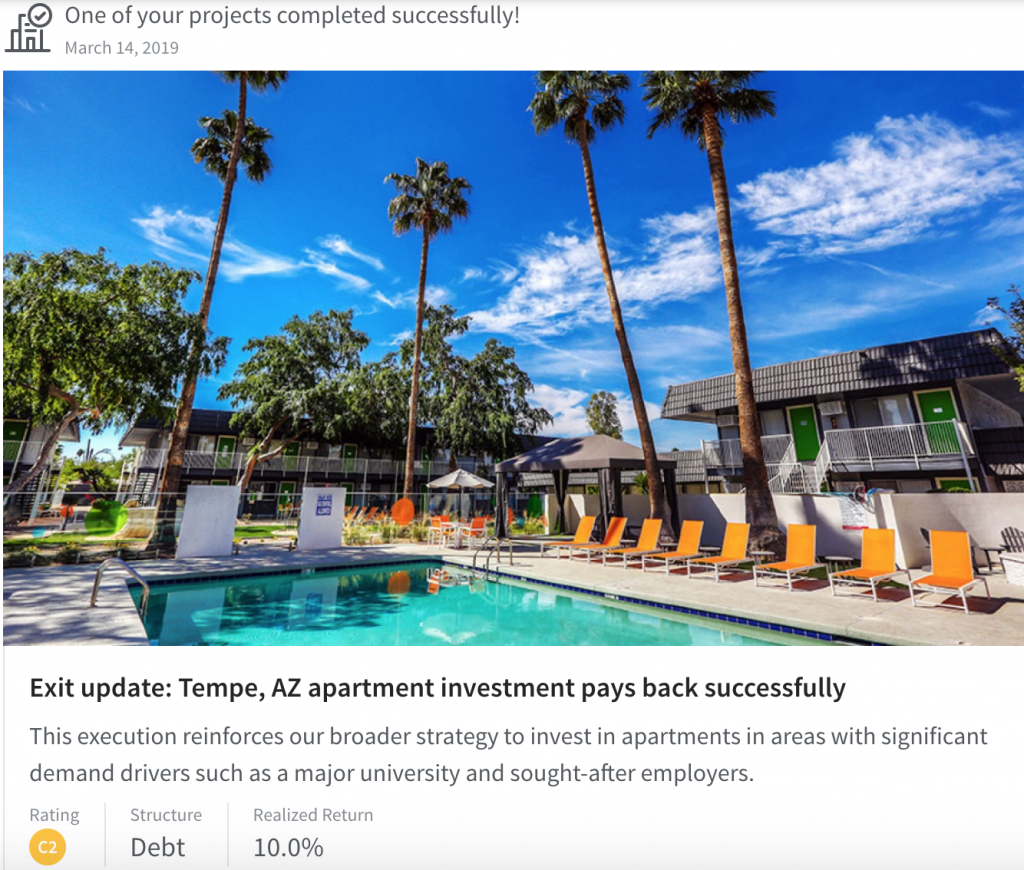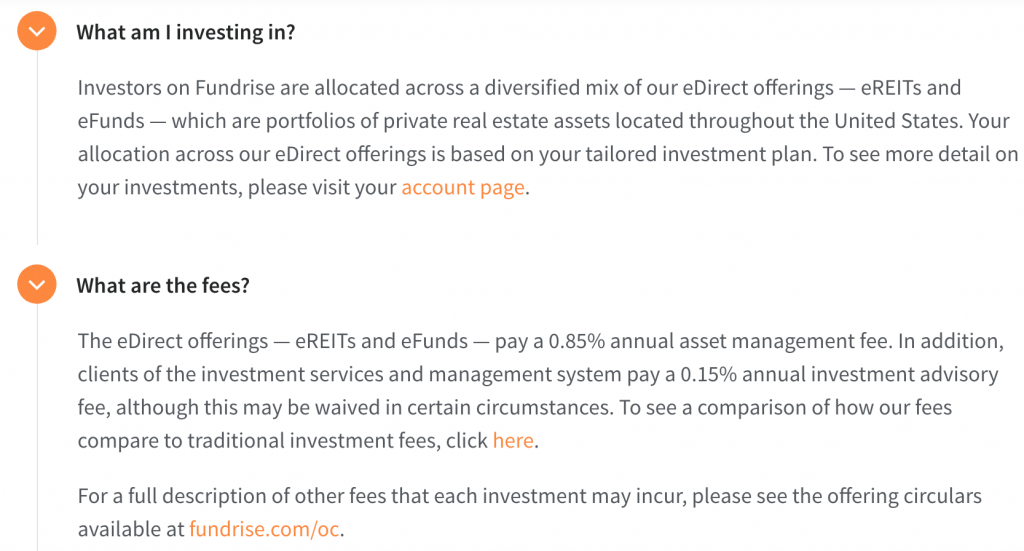 Fundrise clearly lays out all the fees they'll charge you.
I was charged a total of... five cents in my month and a half as an investor. Overall, an annual investment fee of a mere 0.15% is extremely low. Their ability to offer such a low fee is a testament toFundrise's scale.
Fundrise's Website is Easy and Intuitive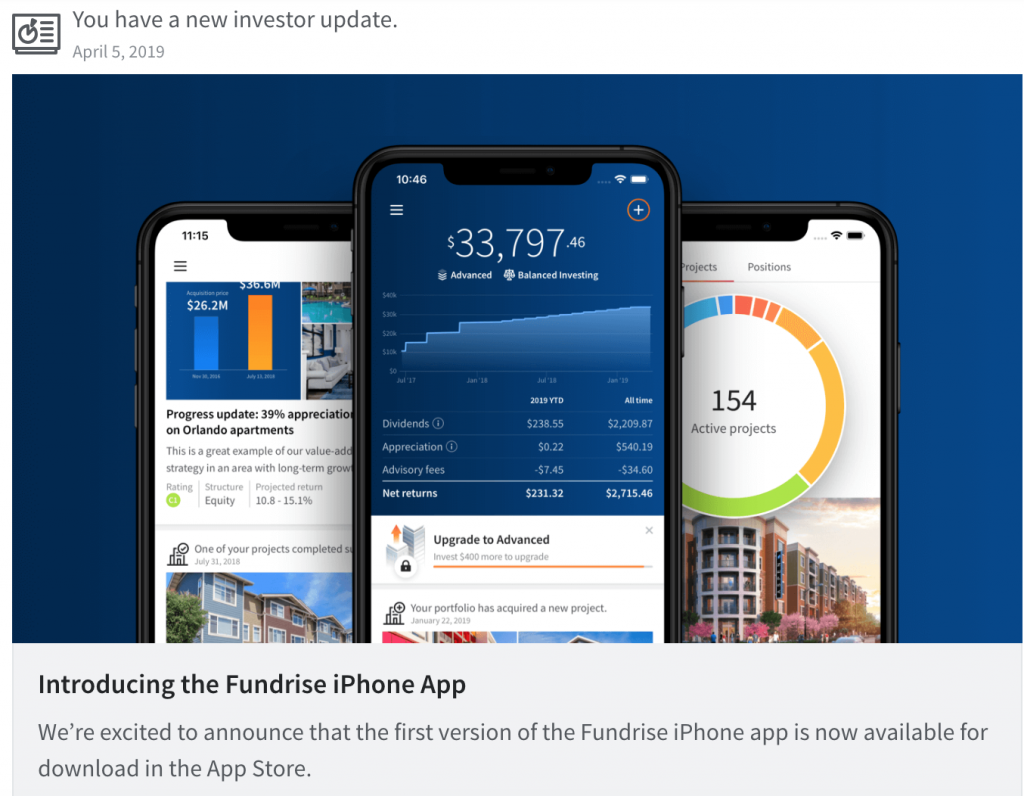 Fundrise's user experience and display make the experience of using their website fantastic.
Fundrise takes careful note of how you interact with their investment account. From past shots, I've seen that they have removed a significant amount of clutter for their original experience.
The main Fundrise screen clearly lays out your returns and the progression of your account over time. The site is also performant on mobile and they have even recently released an iPhone app (unfortunately, I use Android).
Fundrise as an investment platform has an amazing web experience. The company obviously pays careful attention to details of their website. The transaction history page is well-developed andeasy to follow, and I truly enjoyed the investment return tracking. The reporting side is also very strong – reports contain loads of information for an interested investor.
Sign Up For Fundrise - It's an Amazing Experience
Overall, my experience with Fundrise has been fantastic. If you're at all interesed in diversifying your portfolio with Real Estate, I highly suggest you sign up today.
There are no real obligations and the minimums to open an account are low. At the end of the day, it's a simple and inexpensive method to provide diversification to any investor's portfolio.
Fundrise Summary
👍 Pros:
Easy to set-up
Very low minimums
Simple diversification for an otherwise stock portfolio
Access to private market real estate returns
Fantastic user experience
👎 Cons:
Return tax efficiency may not be ideal
Customization of individual projects is not possible
No Android app