Remember this post we wrote as a reaction to a prompt on our (at the time) current spending and saving?  We wanted to revisit the topic with the whole of year 2011 in the books  – and some solid numbers.
The PK Household Since 2009
For your voyeuristic pleasure, here's how I did the last three years.  Don't be too impressed with 2011 – I bought a house and got married, which had a pretty significant effect on my taxes.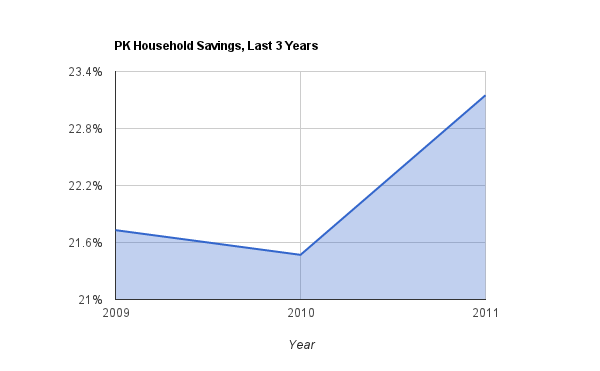 As for my definition of savings?  I'm glad you asked, since Cameron and I had a discussion on this very topic some time back.  My definition is technically incorrect, but from the average person's perspective, arguably better – I'm not counting increases in equity or principal on loans (reduction in debt).  I'm strictly tracking funds that go into investments, savings, or other easily-accessible accounts (read: liquid).  So yeah; 23.146% savings in 2011!
Savings Versus Spending
You understand that all money that comes in will eventually be spent – money can be spent now in the present, in the future, or (through the miracle of inflation and fuzzy future monetary claims) by someone else.  That means that there is some ideal savings rate…  and it is not 100%.  However, we at DQYDJ aren't quite egotistical enough to tell you what it is (well, at least I'm not).  Besides, there are multiple variables here – we'd have to factor in net worth and asset ownership.
Regardless, I do think that the number is well into the double digits, and I might even be a bit low where I've been the last few years.  If you feel the need to tell me, feel free to leave a comment.
And For You?
So now that I've fulfilled my obligation as a DQYDJ writer and posted a graph, it's time to turn it over to you – do you track your saving (or spending)?  Is it positive?  What's your savings rate?  Post it in the comments!