Back in March, we here at Don't Quit Your Day Job… reported the actual all time high in the S&P 500 using the only methodology that matters – adjusting for inflation and reinvesting dividends.  Since there was a fair bit of excitement (and bubble talk!) when the NASDAQ closed over 4000 on Tuesday for the first time since September 7, 2000, I'd say it's fair to bring back our happy math.
The Inflation and Dividend Adjusted S&P 500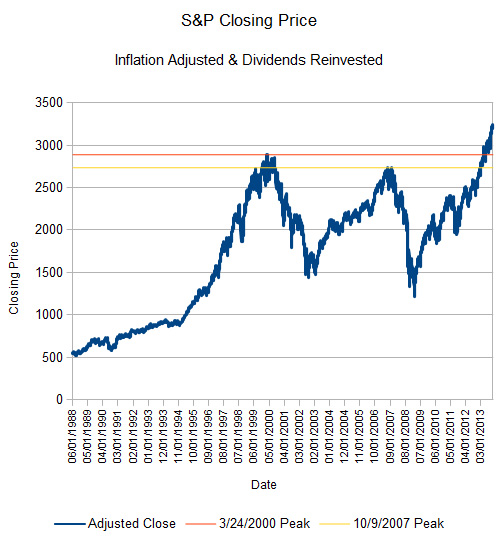 The above chart uses the S&P 500 Total Return Index plus our special blend of herbs and spices to interpolate and extrapolate monthly into daily CPI numbers (our calculator & methodology is here) from 1988 until today, 11/27/2013.  (You can get those CPI numbers from the St. Louis Fed here.)  You'll note I've marked two special prices on the chart corresponding to the last two market peaks – March 24, 2000 (orange) and October 9, 2007 (yellow).
On 11/27, we closed with an S&P Total Return level of 3236.13.  Relative to 11/27, 3/24/2000's peak was 2885.30 and 10/9/2007's peak was 2732.09.  Here's the returns you would have seen if you were unlucky enough to invest on either day:
If you invested on:

3/24/2000 : total return 12.16%, annualized return .84%

10/09/2007 : total return 18.45%, annualized return 2.80%
Gross, but at least you'd be in the black!
Anyway, there you have it – we're 12.16% above 2000's peak in real, dividend reinvested terms.  Happy Thanksgiving!