I try to run my personal finances like I would run a business:
Use debt to leverage high ROE assets.
Limit expenses and maximize revenues by exploring future potential revenue streams.
This manifests itself in many ways in my life… and how I pay my bills. When a bill is due, I wait until the last possible day to make the payment. After all, there is a time value to money and I would rather have the interest-free loan in the meantime working in my favor, rather than the company that I am paying.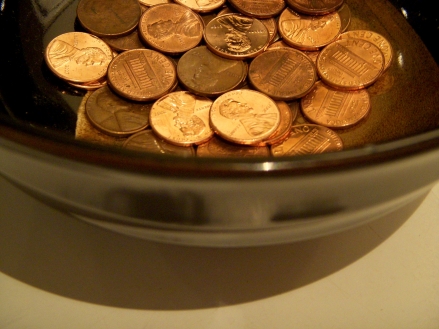 Penny-wise Pound-foolish
Sometimes I look at my spending habits and I recall the old adage, 'penny-wise, pound-foolish'.
Or, perhaps for me, it's 'penny-wise, pound-wise' meaning I place too much emphasis on squeezing out pennies in small situations where it doesn't matter in the long run. For example, I recently bought a shredder for $60 and spent about two hours researching the various consumer reports online.
Did I waste my time? I would assuredly say 'yes'.
As long as this shredder lasts 2+ years and cuts paper when I need it, there really is not much of a distinction between any of the brands, especially for a $60 purchase.
Use Cash to Work for You
When I purchased a house back in June, I wrote an article about my affinity for the ARM. My argument is that the difference in interest rates between a fixed and a 5/1 ARM was ~$150/month and I would much rather have the guaranteed $9,000 upfront because I value the cash. This is a large (enough) sum of money to fret about, and I would undeniably be spending my cash flow differently right now if I had an extra $150 monthly liability. I am able to direct this money towards higher return investments, such as stocks, more houses or my current plan for 2014: paying down my debt (well, debt at a higher APR than my mortgage ).
Remember, not all debt and liabilities are created equal. Although it may be an over-simplified heuristic, mortgage debt is probably the best debt that exists out there.
Does It Even Matter?
For the large purchase described above, I am comfortable in my decision to take the cash upfront. To me, it is a matter of principle on all of my liabilities, however, so I always pay as late as possible and capture the time value of my money.
My mortgage has a grace period of 15 days. This means that I intentionally pay 15 days late on my mortgage and am never considered late by my mortgage servicer. When I am billed for electricity, gas, water/sewage, I pay on the actual due date. Same is true for my credit card payment, paying the principal in full on the due date. If you are wondering if this is me being anal-retentive or common practice, look at how your escrow company pays your property taxes. (I'll give you a hint: they pay the last day legally possible so they can use the cash)
All told, however, these small decisions probably do not add a lot to my bottom line. If I have ~$1,500 in liabilities a month and my average day from billing to payment is ~20 days, it is really only earning me about 8 cents a month. Hardly anything to write home about (I used an interest rate of 0.10%). It would be higher if interest rates were higher but it still would not be enough to purchase a new house every month and retire 20 years earlier. The reason I do it is just to be very principled in my decision-making and treat every single one of my liabilities as profit maximizing.
Worth the effort? Probably not.
Worth the consistency?  To me, it is.
Cheers,
Cameron Daniels