Well, Newt Gingrich took down previous favorite Mitt Romney in a shocker in South Carolina.  What can we say about the upset?  These exit poll posts will continue until morale improves!
You can read the cross-tabs here.  Hope you're ready for the debate tonight on CNN…
Side note (skip if you hate/dislike sports): Does anyone else see the Republican Primary in 2012 as college football in the mid-00s?  Let me lay it out for you:  Mitt Romney is USC, Rick Santorum is LSU, and Newt Gingrich is Texas.  Ron Paul is probably Boise State, a strong football school that didn't get the respect it deserves.  Anyway, Rick Santorum won Iowa (LSU won the BCS championship), yet Mitt Romney was declared the winner by the AP… that covers 2003.  Mitt Romney was heavily favored in New Hampshire and won easily (2004).  Mitt was expected to cruise to victory in South Carolina (2005) and ran into Newt Gingrich.  Ridiculous?  Well, at least I tried.  Give me a break, USC is my alma mater.  Just wait until I find a parallel for the Reggie Bush scandal!
The Vote by Age Groups
Once again, Ron Paul proved his appeal to, by definition, an incredibly important age group in the future: those under 30 (yeah, I know, they get older.  But so does the < 18 crowd).  Considering the break down of the election in 2008, gaining support from a younger crowd would be  a huge deal for the Republican party.  Note that Ron Paul has won this portion of the vote in every state that has voted so far – and consider that two of those states were primaries, not caucuses.
Breakdown (youngest to oldest): 9%, 19%, 45%, 27%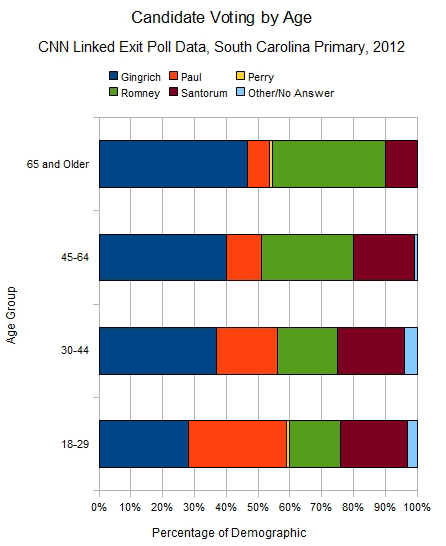 This is an incredibly important demographic to watch – not just for the 2012 election, but also for future elections and the future of both major parties.  My theory?  The younger crowd is more libertarian than previous generations.  Blame/thank the Internet for that one… but that's a different article (and certainly 1,000+ words!).  Of course, the cynical quote that some would say applies is: "If you are not a liberal at 20, you have no heart. If you are not conservative by 40, you have no brain" (Thank you Mr. Churchill!).  Where do the libertarians fall in that quote?
The Importance of the Debates
Do debates matter?  Do the Republicans want someone who can debate President Obama or perhaps a candidate accepted by the 'base'?  That's one theory being pressed by the intelligentsia of the Republican Party.  Remember: the Republicans voted for someone against the best wishes of the base in Barry Goldwater (1964).  They lost.  However, enforcing party discipline was a good move in the long run, when a man named Ronald Reagan rose to prominence espousing many of the tenets of the Goldwater platform.  In 2012?  People love Newt Gingrich's charisma and presence on the debate stage.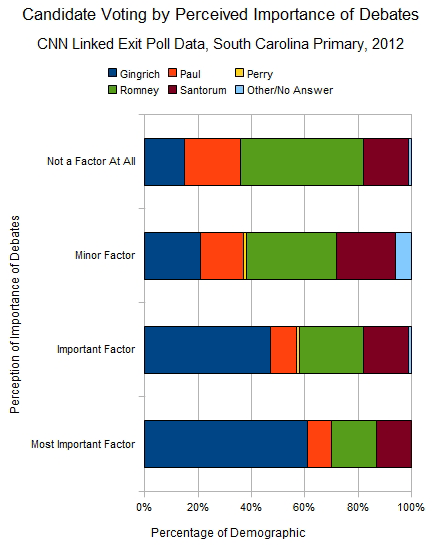 The breakdown?  13% said it was the most important factor, 51% an important factor, 23% a minor factor, and 11% not a factor.
Ron Paul's Growing Influence… in One Graph!

If you still aren't convinced Ron Paul is a huge deal, this next chart is for you. Exit pollsters asked how voters would react to a Romney candidacy if he emerged from the pack.  The choices were 'would not support' (13%), 'would support with reservations' (48%), 'would enthusiastically support' (38%).  Where were most of the 'would not support' voters falling?  Newt?  No, and not Rick Santorum either – Ron Paul locked up that demographic.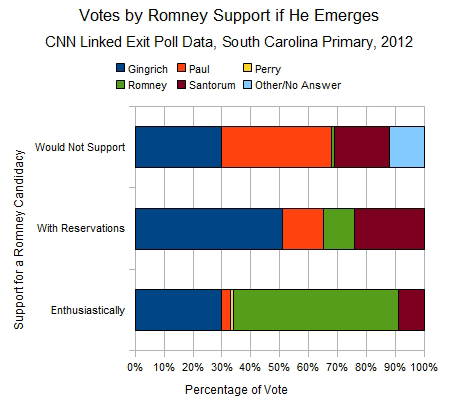 Reading the South Carolina Tea Leaves

Where the Ron Paul voters end up is going to be the most important open issue of the rest of this campaign.  Consider that defections from the Republicans might lead to additional Obama votes, or perhaps even votes for third party candidates (even though I doubt Paul makes a third party run).  Watch who compliments Ron Paul in the next debates – the debates Monday had a fair amount of sucking up from Mr. Gingrich on Monetary Policy and Fed-Auditing.
On the greater picture?  Intrade still has Romney at better than a 80% chance to win the nomination (Gingrich second, with small amounts allocated to Santorum and Paul).  It's not over yet, pay attention to Florida!
What do you think about Ron Paul's candidacy?  Do you support his strategy of gathering delegates?  Who do you think will get the nomination?  Who will win Florida?