Below is a seconds calculator. Using the inputs, enter two wall clock times with the number of seconds (up to 24-hours apart). The tool will compute how many seconds separate the two.
Seconds Calculator Between Two Times
Using the Seconds Calculator
To use the tool to find the seconds difference between two times, enter
Start time: Enter when the activity began
End time: Enter the time when the tool should end the calculation
Click the blue 'Calculate Difference in Seconds' button to start the calculation. The tool will let you know how many seconds separate the two, up to a maximum of 24 hours.
Seconds Between: A count of the seconds between the start and end time you entered in the tool.
By default, the tool has an 8:30 AM - 5:30 PM workday if you are curious how many seconds make up that time.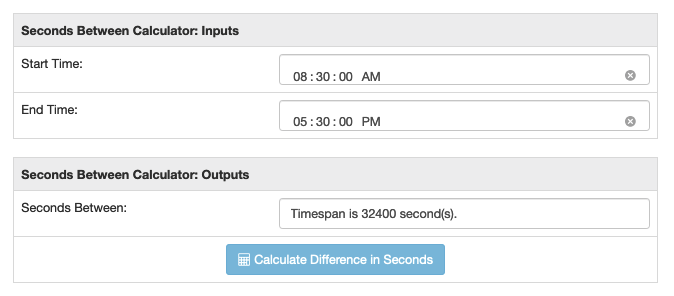 Can I cross midnight (enter a start time later than end time)?
Yes, the tool has no problem crossing midnight. You can enter a time that looks like the beginning is after the start; the tool doesn't mind the direction to do the seconds calculation.
Is Midnight AM or PM? Is Noon AM or PM?
By tradition, 12:00 PM is noon, and 12:00 AM is midnight.
Seconds Between Two Times
Hopefully, this tool helped calculate how many seconds are between two times if you were curious. While you don't always need to know the seconds gap between times, it can be fun to see how many times the clock will tick before the end!
Try other date and age calculators: