Many sites and writers have made the case that you should pay off your mortgage.  While a fine goal for retirement, for the vast majority of people there are greater priorities.  I'm going to take the opposite side of the argument: for the vast majority of readers, you shouldn't pay off your mortgage.  Let's discuss the reasons.
Your House Is Not an Investment
You might think your house is an investment.  Newsflash: it's not.
Temporarily, in a period of time roughly from 1990 until 2006, it seemed like houses were an incredible investment.  That's a period we now know as the "Real Estate Bubble", the after effects of which we are still experiencing.
Don't trust me?  Trust Robert Shiller, 1/2 (1/3?) of the eponymous S&P Case-Shiller index, who stated as much in an interview the other day.  Here's the just-referenced index's view of real estate prices over the no-so-distant past: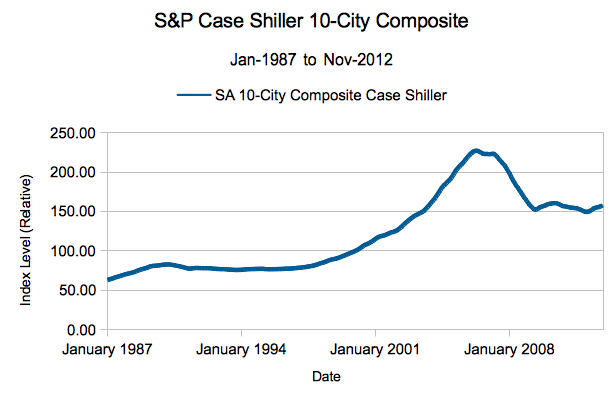 As for an inflation hedge?  Sure – you can probably match inflation, assuming we don't have any other bubbles popping.  The idea of "Real Estate As An Investment" is a new idea – in the last generation.
Also remember, the Case-Shiller doesn't include renovations.  That's right – the structure depreciates, while your land might appreciate.  Good luck.  Here are some trailing average returns for the S&P 500 so you can compare the asset classes.
So remember, your house is not an investment: it's shelter.
Transaction Fees Eat Your Return
Time is one cost to getting money out of real estate.  Add to that lack of liquidity onerous transaction fees – if you sell a house?  6% comes out of the sale price.  If you refinance to cash out?  Expect fees for appraisals, surveys, and insurance (even if they are buried in the monthly payment!)
Let's talk about stocks again for a second.  As long as the market is open, you can trade stocks basically instantly – or at least so fast (in most stocks!) you can't tell the difference.  As for the price of stock trades?  Look at someone like TradeKing, where you can make $4.95 trades.
(Wake me up when there are $10 round trips for buying homes.)
If You Pay Off Your Mortgage, You Won't Be Diversified
Feel free to roll your eyes if you actually are diversified without a mortgage.  This point doesn't apply to you.
The rest of you?  You're probably part of the under-40 cohort, a group which found its way here after reading advice to pay off debt in a certain order – Credit Cards?  Student Loans?  Car Loans?  Personal Loans?  If you've done a bunch of paying off debt, it's only natural to look at the largest debt you find yourself owing: your mortgage.
Well, dear reader – odds are if you've been racking up the debts before discovering personal finance, you probably don't have much in the way of assets.  So, let me preview your paid off mortgage for you: your largest asset will be a concentrated bet on real estate.  Residential real estate.  Residential real estate in your town.  Residential real estate in one specific neighborhood in your town.  Residential real estate in one specific neighborhood in one specific location with some specific neighbors and some specific traffic patterns and noise and foliage in your town.
Get my point?  If you don't, read the "Your House is Not An Investment" paragraph.  House rich and investment poor isn't the best situation to find yourself in.  Liquidity is worth something, you know.
By the Way, Mortgages Are Cheap!
You can get a 30-year fixed mortgage with an interest rate below what people got on Treasuries in the 1970s: mortgage are very cheap, historically.
Wait, there's more!  If you are part of the Schedule A Itemizing Club like yours truly (many homeowners in high tax states will find themselves in this situation), you also can write off that mortgage interest.  Depending on your state and tax bracket, this could mean up to 50% of the rate – turning 3.25% into an effective 1.625% (less than expected inflation).  Obviously this isn't everyone – in 2009, that applied to 36,541,819 households.
Sure, you can't predict that the Mortgage Interest Deduction will stick around forever, but hey – this is the cheapest money you'll probably see.  Why pay off your mortgage with that sort of APR?
Your IRA and 401(k) Have More Legal Protection
Have less than $1.2 million in assets?  Let me paint a scary picture for you:
Two neighbors each have a net worth of $1 million.  They are both married and 40 years old.  One owns his house outright, valued at $1,000,000.  The other has $250,000 in equity in his house, and $750,000 between his 401(k) and IRAs.

They both are sued, and both have judgements of $2,000,000 against them.  Both declare bankruptcy.  What happens next?

Both neighbors are residents of California (look up your state).  California lets most married couples exempt $100,000 from home equity in a bankruptcy.  Neighbor A has $900,000 of assets at risk.  Federally, you can exempt $1,171,650 per person.  Neighbor 2 only has $150,000 in equity at risk.
I'm not a lawyer (not even by proxy).  The law is complicated and never common sense – consult your own lawyer and financial adviser when discussing legal protection.  These rules also don't apply if the Government is the one asking for money.  Oh, and if you have that many assets, get umbrella insurance.
Still, I'd rather be neighbor B in this situation – note he and his wife can shield a very solid amount of assets in the case of a bankruptcy.  Did you know that retirement accounts and homes had such disparity in bankruptcy?
Don't Pay Off Your Mortgage
Well… unless you're fully diversified, aren't treating it as an investment, it's costing you too much, and you've already got $1.17 million in your name in retirement accounts.  (Maybe that applies to you – we also write about non-PF topics here, stick around!)  For the rest of you, paying off your mortgage at a normal rate protects you from all the scenarios I mentioned above.
To you that disagree?  If the calculus changes, someone who doesn't pay off their mortgage could just use the money that they saved in lieu of locking up the mortgage to, well, pay off the mortgage.  And if you still disagree, find me a time when you wouldn't have superior returns in treasuries or returns in stocks over a 30 year period – especially with a negative real cost with the MID.