We had a few requests to follow up our inflation and dividend adjusted S&P 500 article by doing something similar with the NASDAQ.
And, yes, the NASDAQ is a great choice.  The NASDAQ is biased towards technology firms, which don't pay dividends at the levels of firms in other sectors of the economy.
Is the NASDAQ At an All Time High Adjusted for Inflation and Dividends?
No, we're not at an all time high in the NASDAQ.  We saw higher levels in the summer of 2015.
But yes – it's an interesting comparison and request.
Election-related volatility aside, the dividend adjusted NASDAQ peaked on July 7, 2015… using our proxy of September 2003 as our base CPI, it closed at a level of 4533.148.  Compare that to Friday's close at 4367.71… you would have lost ~3.65% to inflation just holding on to the index!
Here's what the inflation and dividend adjusted NASDAQ looked like through November 4, 2016 (starting from September 25, 2003 – the earliest data we could find on Quandl).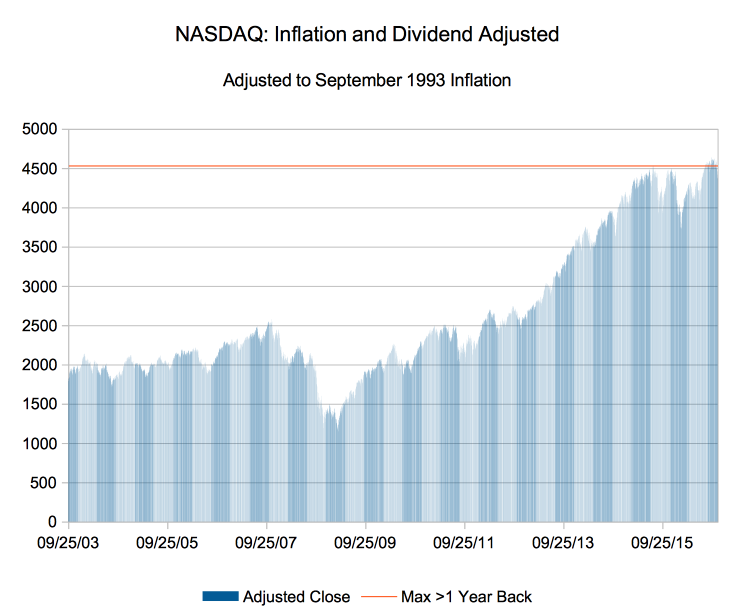 The orange line in the graph is the 7/7/2015 high.  We eclipsed it, but fell back below the high water mark in recent weeks.  (We'll follow up on some measures of health in the tech sector at some point.)
Election jitters or a plateau?  You be the judge – and tell us in the comments.  Let us know any requests, as well.  Our time is about to free up som and we'll get some new articles out for you!