We've got this running series on Don't Quit Your Day Job where we use the currently trading option prices (puts and calls) to divine where the market believes the S&P 500 is going over the next months.  Normally, this is a problem we attack right after options expiration days (which happened to be on Friday), but as we had an issue with the script and prior commitments, you guys will have to accept our homework 2 days late.
As always, our predictions try to capture a 75% chance that the closing price of the S&P 500 will fall between the upper and lower boundaries given (see the bottom of the post for previous entries).  So, with all that in mind, here is how the market, as of May 22nd, 2012, thinks the S&P 500 will close on a few selected dates.  For the record, the index closed at 1,316.63 today.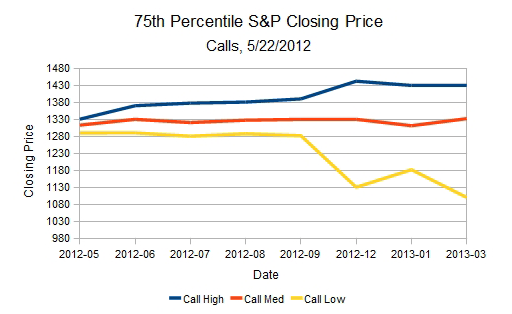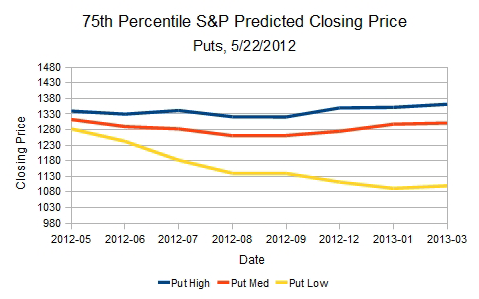 Past Predictions
Also, for the record, the predictions made in the last article were wrong for both calls and puts (we came in under – 1295.22 was the close Friday).  The jury's still out on how this method will do, but we can assure you we'll track all year!  Below we've reproduced the full closing price predictions – remember, this is the market's prediction that 75% of the time it will fall in the range.  Use this information in your models, but don't blame me if things don't go your way!
| | | | | | | | | |
| --- | --- | --- | --- | --- | --- | --- | --- | --- |
| | 05/18/12 | 06/15/12 | 07/20/12 | 08/17/12 | 09/21/12 | 12/21/12 | 01/18/13 | 03/15/13 |
| Put High | 1339.68 | 1330.04 | 1341.56 | 1321.52 | 1320.79 | 1350 | 1351.72 | 1361.57 |
| Put Med | 1312.69 | 1290 | 1282.57 | 1260.76 | 1261.49 | 1275 | 1297.66 | 1301.54 |
| Put Low | 1282.7 | 1242.68 | 1182.06 | 1140.21 | 1140 | 1111.86 | 1091.54 | 1100 |
| Call High | 1330.52 | 1370 | 1377.59 | 1380.74 | 1390 | 1442.14 | 1429.76 | 1430 |
| Call Med | 1312.9 | 1330 | 1320.34 | 1327.3 | 1330 | 1330 | 1311.14 | 1332 |
| Call Low | 1289.71 | 1290 | 1280.29 | 1287.68 | 1281.74 | 1130 | 1181.64 | 1100 |
And links to our previous articles
: