Last we checked out one of the obscure numbers that relates to jobs  in the United States, we were looking at a Employment-Population Ratio under 59%.  Today let's revisit that same ratio and see how much things have changed.
Parsing the Recent Employment Report
The first Friday of the month, the Bureau of Labor Statistics released a report in which the U-3 unemployment rate ticked up slightly from 8.2% to 8.3%.  Nonfarm payrolls increased by 163,000 - at first glance a decent number, yet U-3 increased.  (For the politically inclined, from 8.217% to 8.254%).
How is it possible that the unemployment rate increased in the presence of new jobs?  Elementary!  Population growth puts constant pressure on the rate (as long as it is positive), and since U-3 numbers count some people as out of the workforce (who likely aren't be looking), increased job search activity from that demographic will increase the population that U-3 counts, increasing the rate.
Enter the Civilian Employment-Population Ratio, a much harder number to fake since it racks the number of people employed versus the population as a whole - so any sort of tricks or side effects from the official numbers can't paper over changes (I'm not necessarily saying the official number is false - I agree with most of the criteria used to determine who is looking for work).  Of course, natural factors would also lead to slight declines in the number - such as large numbers of people retiring (I'm talking about voluntarily, involuntary retirements we would want to track).  That may be true of the Baby Boomers, but as you'll see in a second... it can't be the whole answer.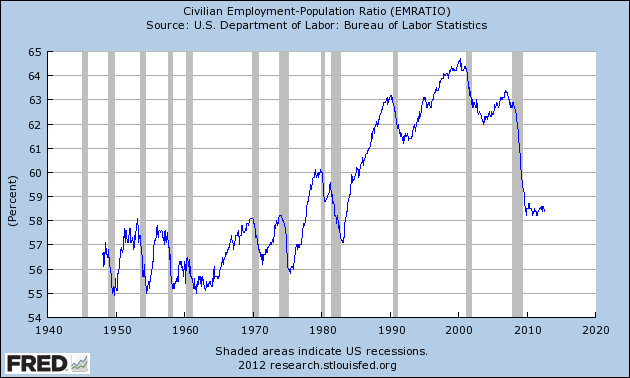 The number in July was 58.4%, a tick down from 58.6% last month, and down from 58.5% the last time we checked.  And therein lies the problem with our recovery - sure, income gains have finally reached parity with pre-recession times, but this ratio is anemic.  We're staring at numbers we haven't seen since the early 80s.
It can't be all Boomers retiring, can it?
What do you think about this ratio?  Do you think the job report was a good one, since nonfarm payroll numbers increased?  What's your favorite employment statistic?