While the Survey of Household Economics and Decisionmaking is incredibly useful for figuring out retirement stats, we've barely tested its depths with our recent posts. Also included inside? Invaluable data on part time work in the United States. Whether you call it a side job, part time work, or a side hustle, the 2017 SHED had a nice series of questions on part time earning. Let's explore the most common side jobs in America.
Popular Side Jobs in America
By the Federal Reserve's math, around 75 million American adults – 30.7% of all adults – earned  side money ("not from a primary job") in the month before they completed the survey.
By far, selling items online was the most popular side hustle. An estimated 10.86% of all adults (and 35.31% of all adults who earned side money) sold something online. On the flip side, ridesharing and renting out goods or property are quite rare side jobs for Americans. For both categories, only 1.64% of American adults participated in the previous month – roughly 4 million Americans did each.
Most Popular Ways to Earn Money Outside a Primary Job
Percentage of American Adults

Percentage of American Part Timers

Number of Adults

Selling goods on-line through eBay,
Craigslist, or other websites.
10.86%
35.41%
26,619,053

House cleaning, house painting, yard work, or other property maintenance work

6.72%
21.91%
16,472,505

Selling goods or services yourself at flea markets,garage sales, or other temporary physical locations

6.46%
21.06%
15,834,655

Providing other personal services, such as running errands, helping people move, etc.

5.63%
18.35%
13,797,203

Babysitting, child care services, dog walking, or house sitting

5.61%
18.29%
13,750,125

Completing paid online tasks, such as on Amazon Services, Mechanical Turk, Fiverr, Task Rabbit, or YouTube.

4.23%
13.80%
10,371,463

Selling goods at consignment shops or thrift Stores

3.78%
12.33%
9,266,790

Any other paid activities that you have not yet mentioned (do not include taking GfK Surveys).

3.75%
12.23%
9,194,248

Disabled adult or elder care services

2.39%
7.80%
5,865,770

Other online paid activities (do not include taking GfK Surveys).

2.19%
7.13%
5,357,750

Renting out property online, such as your car, your place of residence, etc.

1.64%
5.35%
4,025,313

Driving using a ride-sharing app such as Uber or Lyft.

1.64%
5.35%
4,020,541
Want to see the above in graphical form? We've got your back: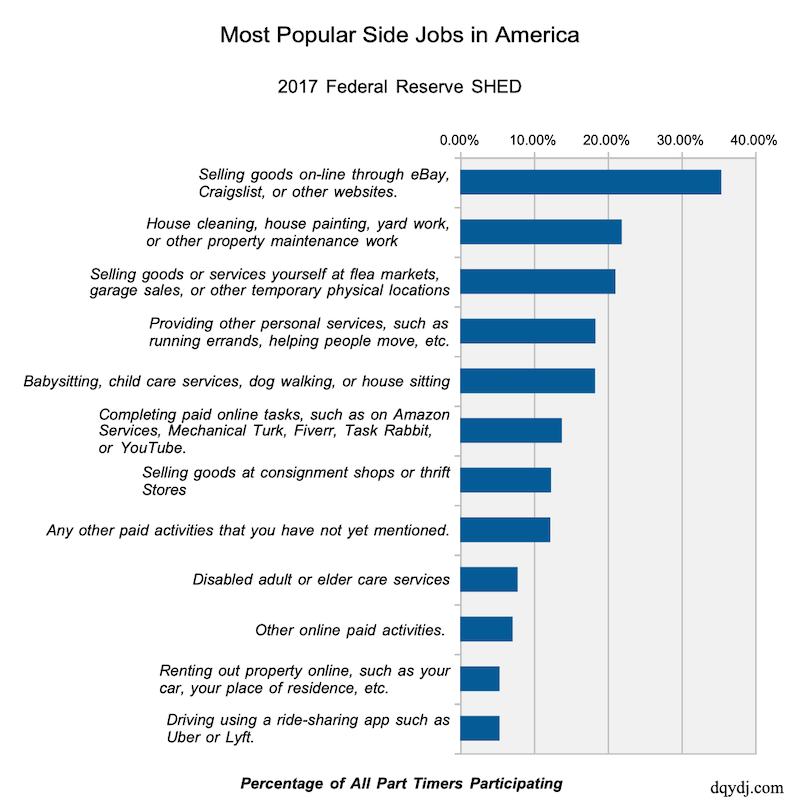 Once Upon a Side Hustle in America
Surprising stuff? Feels so – even factoring in some of your suspicion of this survey after the post on early retiree assets and investments.
Particularly, that 11% of American adults sold online feels high (even though we fit that definition). The ride-sharing and property numbers are about on point though, and mesh well with the gig economy statistics we saw from the Bureau of Labor Statistics earlier this year.
As for ~ 31% of all American adults doing something on the side? Yes, we can see it – but hey, you're here reading this site… perhaps we're a little biased? (Mash that subscribe button!)
See anything interesting in the data? We'll dive a bit deeper and explore that adult share of side work in upcoming posts.