Last time in a real estate piece, we talked about the historical homeownership rate in the United States, since we were able to get data back to the 1890s. This time we'll reach back just as far, but we'll also discuss the mortgage status of homes. Even though we don't quite have the resolution to discuss the actual mortgage "innovations" which may have helped or hindered the homeownership, we can still point to historical changes and see if those innovations at least possibly changed the trajectory.  Today, we'll discuss the 30 year mortgage's history and other innovations leading to the United States housing market's current status.
A Brief History of Mortgage Innovations Including the 30 Year Mortgage
This isn't a term paper, even if you're starting here for your own paper. However, we did have to do some research for this piece on the origins of the modern mortgage… and it's pretty interesting.
Before the Great Depression, mortgages were completely private – homeowners would generally string refinances one after another, and mortgage terms were less than 5 years. It wasn't until 1934 that the Federal Housing Administration stepped in with an insurance program on mortgages, an amortization plan, and terms of 15-20 years (much like today, many mortgages are insured based on standardized programs – say, 30 years, fixed interest, 80% loan to value).
The FHA introduced other innovations – quality requirements for insurance, 10% and 20% down (from the previously lowest ~50%). The Bloomberg article above notes that even while other Depression-era government programs were unpopular, the FHA's program (with its submarket rates of 5% vs. prevailing interest rates around 12%) became exceedingly popular. Undoubtedly, it also fueled the public's perspective that a mortgage is a generational commitment – witness the 30 year mortgages the US has today, along with 40 year and even 100 year mortgages elsewhere.
So, if our first inflection point is around 1934, our second will be in the mid 1950s. Even though the early Mortgage Insurance industry started in the 1880s, all private mortgage insurance pretty much bankrupted by the Great Depression. The FHA had their insurance program, but for lowered downpayments on loans, there really wasn't a program. Enter the private company the Mortgage Guaranty Insurance Company in 1957 – they would assume the risk on the first 20% of losses on a loan, allowing borrowers to put down less than the prevailing customary down payment of 20%. Today, depending on the loan program you choose, you can get mortgages with downpayments less than 20% insured by various government, private, and quasi-government agencies.
So, you're looking at 1934 for standard mortgages, and 1957 for PMI as the two major innovations in the housing market, and, in theory, the homeownership rate.
The Homeownership Rate, Reproduced
Here is the homeownership rate, reproduced from the last article. Click through to it to see where the data comes from.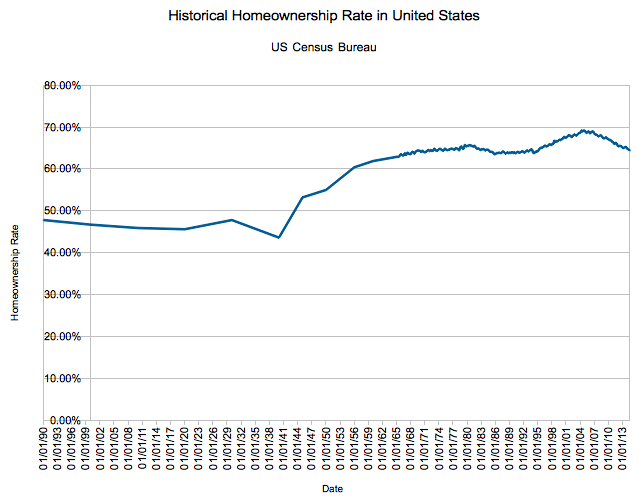 Number of Owner Occupied Homes with a Mortgage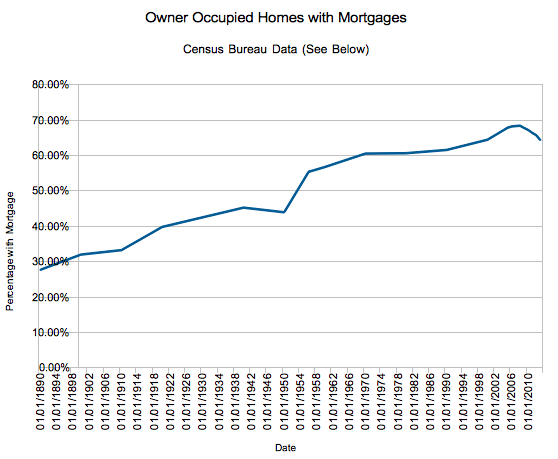 | | |
| --- | --- |
| Date | Owner Occupied Homes with Mortgage |
| 01/01/2013 | 64.32% |
| 01/01/2012 | 65.74% |
| 01/01/2011 | 66.42% |
| 01/01/2010 | 67.23% |
| 01/01/2009 | 67.81% |
| 01/01/2008 | 68.43% |
| 01/01/2007 | 68.35% |
| 01/01/2006 | 68.23% |
| 01/01/2005 | 67.90% |
| 01/01/2000 | 64.48% |
| 01/01/1990 | 61.60% |
| 01/01/1980 | 60.66% |
| 01/01/1970 | 60.56% |
| 01/01/1960 | 56.77% |
| 01/01/1956 | 55.40% |
| 01/01/1950 | 43.97% |
| 01/01/1940 | 45.28% |
| 01/01/1920 | 39.84% |
| 01/01/1910 | 33.29% |
| 01/01/1900 | 32.02% |
| 01/01/1890 | 27.70% |
Sources
I pulled this from another of places. To start, use Census Factfinder for the 2005+ ACS. Table is 'B25081'.
Then you need to tick through the 2001, 1991, 1981 Residential Finance Surveys.
Then revisit the Historical Statistics of the United States through 1970.
Conclusion
So, uh, those charts look pretty similar, right? Post hoc ergo propter hoc and all that (this isn't your term paper, remember? You finish it off), but it's tough to deny there is a good argument that access to mortgages and mortgage innovation has done a ton for homeownership in this country. Note, too, that all of this increase in homeownership was in the midst of a massive growth in native born and immigration to the country – but hey, let's look at that later.
Anything interesting you see in the data? How about the hitch since the Great Recession – more owner occupied homes don't have mortgages, which fell with the homeownership status.  How much do you think can be credited to the 30 year mortgage and other long dated loans?  How about private mortgage insurance?