Today we're going to discuss the most important variable in your control when it comes to setting your Retirement or Financial Independence date: your ideal savings rate.  You're in for a bit of a read, but by the end you'll have a grasp on how your savings rate affects your retirement – or financial independence – date, and approximately what the best savings rate is for you.
Wait, How Can That Be?  What About Rate of Return?
All of that's not to say that other factors aren't important when it comes to planning the date for you to hit your savings goals: rate of return, taxes, changes in entitlement formulas, going back to school, health, mortgages, moving out of your parents' basement and so on and so forth – it's just that, in a vacuum, the factor you have the most control over is how much of your take home pay you spend.  That's why we want to aim for some ideal savings rate.
Should you spend less or earn more? 
Here's the thing: this relationship doesn't care.
No matter how you combine spending less and earning more, the relationship stands: you can get a rough idea for how quickly someone can retire solely from their reported savings rate.  That also applies to your own finances – if you're saving 50%, you're closer to your "breakeven" date (the date when your savings can support your lifestyle on their own) than if you are saving 5%.
An Ideal Savings Rate vs. a Goal Amount
There is one elegant truth behind all of this:
If you are saving a certain amount, you are not spending that amount.
Say, for example, that you make $50,000 after taxes a year.  If you save 0% of that money – not a recommended percentage by any means – that means you are spending $50,000.  If you, however, are saving 50% of your salary?  Well, that must mean you are spending $25,000 of it.
That relationship allows us to make a few reasonable assumptions and come up with a relationship between the amount you save and the amount you should have saved before you retire:
We'll ignore the effects of taxes, pensions, annuities, and entitlement programs.  Take heart: it's not that hard to model them on your own.
Returns run at 10% a year, inflation at 2%, and 4% is a safe withdrawal rate.  When this article is over, you can change the assumptions in the ideal savings rate calculator.
You have $0 in savings.  Again, the next article will let you change this.
This all assumes

you don't touch the principal

  Along with that, assume your savings rate stays the same over the years.
You invest at the beginning of every month.
Here you go:
So, if you save 5% a year, you will need to save 23.75x your salary using our assumptions. If you save 50%?  12.50x.  70%?  7.50x.  (It's a linear relationship.)
If you make $1,000,000 and you save 50%, you'll need $12,500,000 (in today's inflation adjusted dollars) to maintain your exact lifestyle.
The math is exactly the same if you make $31,000 – you'll need $387,500 to keep it up!
The Ideal Savings Rate vs. Years Until Retirement
Once you start thinking about the implications of the above section on when you can retire, you'll realize the problem is multifaceted.  First, a higher savings rate means your target is lower.  Second, a higher savings rate means you're putting more cash towards the goal every month.  Taking that $50,000 salary, if you're saving 5% you're aiming for $1,187,500 in savings, and you're investing $208.33 a month.  50%?  $625,000 and $2083.33, respectively.
As you'd expect, we're no longer talking about a linear relationship: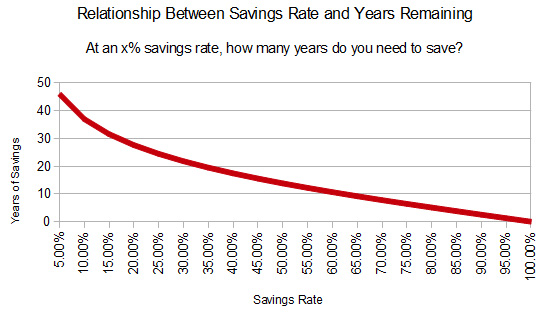 You'll also notice diminishing returns.  Why's that?
For lower savings rates, your cash becomes dependent upon return – so if we were assuming higher or lower returns, you'd be changing the slope of the line at any point (the derivative, for those of you that are paying attention).  Higher returns mean quicker goal achievement for low savings rates, while lower returns mean it'll take much longer.
As you'd expect, for higher savings rates, although the slope changes it's not as drastic:
The difference between 2% and 20% real returns for a 90% savings rate?  2.20 vs. 2.70 years; respectively.
Keep that in mind – the higher your savings rate, the more you are insulated from the volatility of the market.
Even with -20% returns, you'd only need 4.02 years at a 90% savings rate.  (Although, yes, you'd hope to get better returns after you retire).
If we continue with our classic assumptions laid out in the last, what does it look like numerically?  Glad you asked!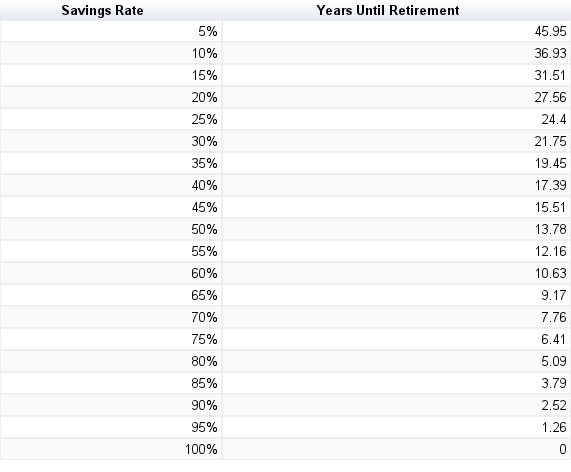 So… What's My Best Savings Rate?
The most interesting way to answer this question is to target independence by a certain year.
If you are a 22 year old new college graduate and would love to be independent by 40 (whether you choose to retire or not), these assumptions suggest you should save around 40% of your income.  even if the market only gives you a 5% real return, you'd only have to delay independence until 43 or so.  And if you want to, say, retire by 30?  We're thinking right around 68-72% is the best savings rate for you.
Of course, not everyone is young with the ability to set their savings rate in such a matter.  For the rest of us, the best thing to do is to look at our current spending, and do what we can to increase it.  The largest gains, of course (using our assumptions), will come on the lower end of the scale – you gain more (24.2 years) from the jump from 5% to 30% savings than from the jump from 30% to 75% (15.34 years).
In essence, I can't exactly tell you the best savings rate for your situation – but I can toss out some reasonable numbers for you to try to match in the absense of major goals.  Save at least 20-25% of your cash, which means you'll cut your independence date roughly in half from a 5% savings rate.  Since the average professional career is roughly 40-45 years (assuming you can avoid injuries, chronic illness and later-in-life layoffs), 20-25% should leave you with enough cushion to deal with issues that crop up.
20-25% savings rate, plus whatever benefits and pensions are coming your way will put you in a decent spot, mathematically.  Is it a guaranteed success?  Of course not; but if saving a quarter of your income can't get you where you need to go, our country probably has something worse going on than a minor recession.
And, of yeah, we know a guy who saves right around that amount, although he's looking to raise that a bit.
Now that you've got the full background, head on over to the ideal savings rate calculator to play with some numbers!