When it comes to guaranteed returns, there is a list of investments perhaps as numerous as your fingers.  The most famous example is the 401(k) with an employer match.  In order to charm you into investing some of your money in the company's 401(k) account, most employers tend to put up a bit of their own money as an incentive.  The return is immediate, guaranteed, and something that should be captured.  The bottom line is – in almost all instances you should make sacrifices elsewhere in order to receive the full employer match.
It's Not Rocket Surgery!
In Corporate America, you can divide many companies into one of two plans (although there are many other matching schemes):
100% match up to 4% of your contribution.
50% match up to 6% of your contribution.
Think about what that means.  You invest your money in an account earmarked for you.  In addition to the tax break (either now or in the future, plus capital gains free from tax) you also get to pry a few more dollars from your company's coffers.  If you make $100,000 and contribute 4% into the first type of plan, you get an instant $4,000.  You would need an Enron-style loss in order to make that not worth it… even if you toss everything into a Money Market account from that point further you're still getting a ridiculously high return on your money.  There is the occasional debt with an interest rate which may be able to compete with 401(k) matches, but the vast majority are no match for the instant returns.  Same concept for the second type of plan – your company would turn your $6,000 into $9,000 just for contributing.  If only all investing was that easy!
The Biggest Mistake
The biggest mistake employees make is assuming they can make up for a dearth of early-career savings in their later years.  While it is usually possible to dump more absolute dollars into the account annually in greater years (assuming you don't butt up against the contribution limit) your problem at that point is time, not free cash.  I'm sure everyone has seen this graph of the value of a dollar compounded annually at 10% interest for 50 years.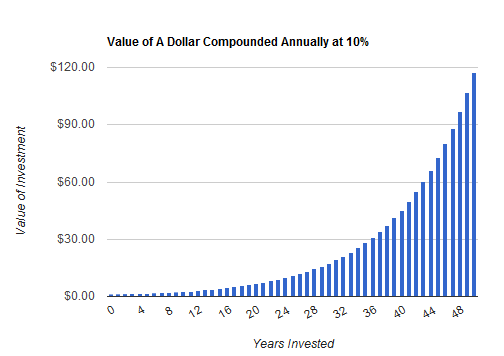 If you invest it at year 0 and hold it to year 50?  It's worth $117.39.  That's powerful.  If you invest in the 30th year, you have to toss in $17.45 to get the same result.  Do you think you'll be making 18 times your 25-year old salary at 45?  The point is… you'll make more, but it will be harder to reach your savings goals.
Where's the Value Add?
Maybe you've read a variation on this article before at other personal finance blogs and you're wondering, "Where's the value add?  I can read this elsewhere!".  Glad you complained, but I promise I'm not mailing this one in and getting soft.  Here's a calculator so you can determine exactly how much worse off you are by starting late in investing.  This can obviously be applied beyond 401(k)s, but mind your taxes… Also, note it's a constant return. Now stop complaining and play with the calculator!
So there you have it.  Proof that it's a marathon not a sprint, and you should start as early as you can.  Thanks, as always, to Political Calculations for the calculator script. Complain or comment in that little Disqus link below.