Below is a decades calculator. Enter two dates and the tool will tell you how many decades separate them, along with the number of years and days (if there is a remainder).
Decades Calculator Between Two Dates
Using the Decades Calculator
The tool automatically populates two sample dates, but to use it for your calculation enter dates into these fields:
First Date: Enter the date when the timespan began
Second Date: Enter the date to end the calculation
Next, click the blue 'Calculate Decade Difference' button. We'll do the math on the number of decades between the two. Any remainder will be output in years and days.
Decades Between: A count of the days, years, and decades between the two dates.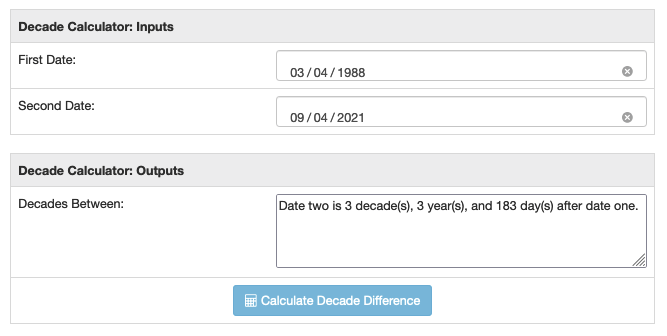 Does the tool factor in leap years?
Yes, the tool factors in leap years. Internal to the tool is a library that can handle calculations with leap years.
Decades Between Two Dates
Date math can be tricky, and it often introduces off-by-one errors where you run the numbers manually. This tool can help give a definitive count on decades, plus any extra time measured in years and days. Hopefully it helped you with a tricky calculation!
Other date and time calculators: