Do you get a match?  What's the average management fee on your fund choices?  Does your plan have all of the necessary asset classes?  If you've got a 401(k) at work, no doubt you've been pressured to sign up (or automatically enrolled).  How does your 401(k) allocation stack up?  And, perhaps most importantly of all: how does your 401(k) compare to other plans?
Stick around, we'll share some tips, tricks, and links to help you see how your 401(k) plan itself – and your allocation – stacks up and compares with the plans at other companies.
The Employer Match
With very few exceptions, you should be contributing to your 401(k) up to the amount of the employer match.  Even if you later do something silly like withdraw the money early, you still come out on top.  Take the example of an employer who matches 50% of your contributions up to 6% of your salary:
You make $100,000 before taxes.  You invest 6% of your money in a stable value investment in your 401(k) that goes up 0% during your holding period.  Your employer contributes another 3%.  You now have $9,000 invested in the 'stable fund'.
If you pull that money out at the end of the year, you will pay 10% + your tax rate.  Since you would have paid the taxes on $6,000 of that money anyway, consider it a wash (it allows you to think through the last bit).  Of the $3,000 remaining, $900 will go to the penalty rate, and you'll also pay taxes on that $3,000.  You are better off than if you had not contributed.
Now, I'm not saying pulling money out of your 401(k) is a good idea.  Look at a 401(k) loan if you need to tap your 401(k) money.  In almost all cases, you are better off contributing up to the matched amount.
Tax Diversification
Income taxes are a volatile beast.  It's impossible to predict what income taxes will look like next year, let alone when you retire (people starting to work now could be looking at spans as large as 50 years).  That said, 401(k)s are available widely and offer a higher contribution limit ($16,500 this year under 50, $22,000 for over) than IRAs.  Since the majority of 401(k) plans today are traditional (pay taxes when you withdraw) as opposed to Roth type plans, people are (possibly unwittingly) betting that their taxes will go down in the future.  This is an argument for 'tax diversification', which boils down to investing widely in different types of plans, instead of putting the majority of your assets in one place.
How do you achieve this?  Simple… Roth and Traditional IRAs, taxable brokerage accounts, home equity (maybe in the future?), etc.  Spread your wealth around in all sorts of taxable forms.
Liquidity
I made a passing reference earlier to the liquidity issues inherent in the 401(k) and IRA structure.  You may need that money before you turn 59 1/2.  For an IRA you can turn to the 72(t) Distribution.  401(k) plans offer the loans mentioned above.
This is a large advantage of the taxable brokerage.  You are able to quickly (in whatever length of time it takes to settle your securities) move money around and access it in a pinch.  Consider adding a taxable brokerage account if you don't already have one.  Do this after you have a fully funded emergency fund, of course!
How Does Your 401(k) Compare? Plan Quality and Allocation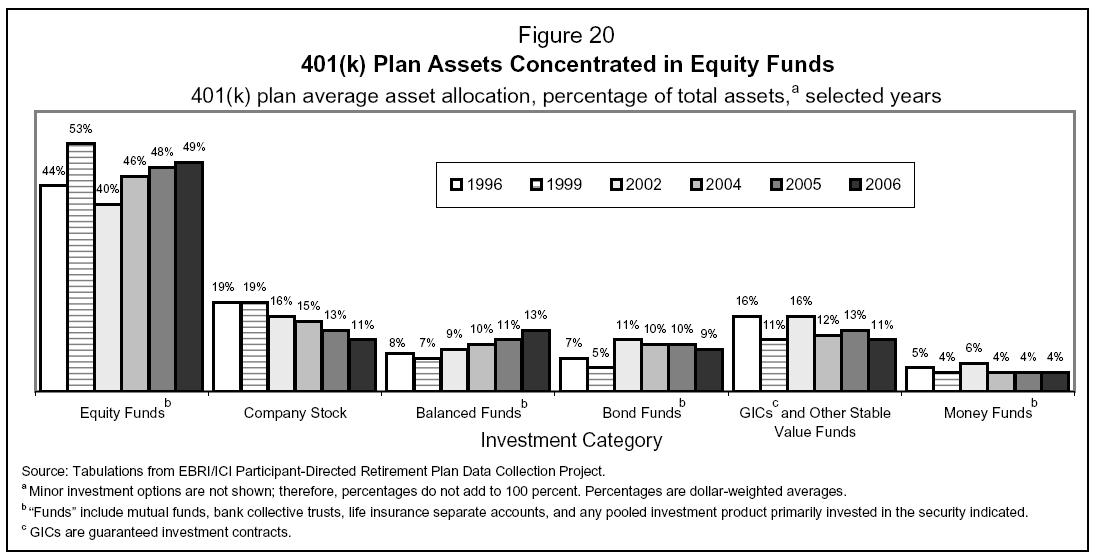 401(k)s are an awesome account for hands off investing.  Money can automatically come out of your paycheck, and you may even amass a nice amount without even paying too close attention.  The wide availability of target date funds also make it easy for a disinterested invester to quickly pick an investment option.  However, not all plans are created equal!
The best site I have found to see how your 401(k) plan stacks up is BrightScope.  BrightScope allows you to boil down into different company 401(k) plans from their Form 5500 filings.  Participation rates, company generosity, and even plan options are ranked against other companies in the same peer category.  Check out some of the best plans like at the Miller Brewing Company, and compare your plan to various other companies.  Also, check out FundAdvice to see a review of your plan (if it's a larger company, it may be there).
Choosing where and how to invest your money is an important decision and you should consult a financial adviser if you are at all unsure of what to do.  Still, your considerations, which should include the points I made above, may lead you down a different path than the 'max out the 401(k)' crowd.  Take all of these things into consideration, and consider your own tolerance for risk.  Oh, and contribute at least to the company match.  If you don't you may as well heat your house with burning dollars.
How does your 401(k) compare to other companies?  How about your asset allocation – how do you compare to your peers?