If you read mainstream financial media, you've recently seen more and more sophisticated reporting on median income trends in the United States.  Instead of tossing a single median income number at you out of context, mainstream sources are getting better and better at providing context… specifically, articles are often presented with quantile breakdowns and come already adjusted for rising inflation.  We wanted to do our own digging, and share how graduating college and working fulltime affects the income numbers – and you'll like the results if you're on that path.
We'd like to advance the genre a little bit more – even though media presentations are much better, they still leave a bit to be desired.
Graduating College and Working Fulltime
If our demographic statistics are to be trusted, most of you reading this article are college educated… attaining a Bachelor's Degree or higher.  Additionally, a plurality of you make over $100,000, with significant numbers of others making over $75,000 annually.  Adding those statistics together with the fact that this site is called "Don't Quit Your Day Job…" means I'm going to assume that most of you hold down a full time job – or, if you don't, you work at least 40 hours per week.
Seeing as college aid has mostly made a college education into a choice rather than an exception, and short of generationally bad employment markets (hello, 2009-2011!) working full-time is also mostly a choice… we felt it was fair to take a glimpse at a subset of workers: those who work 40+ hours a week, and those who attained a Bachelor's degree or higher.
Baseline Scenario: Typical Adult Workers of All Types
Let's kick it off with the following control group graph:
Total personal incomes – including wages and all non-wage income: think Social Security, dividends, capital gains, business income, etc.
Reported working at least 1 hour a week in the March 2013 Current Population Survey
Are at least 18 years old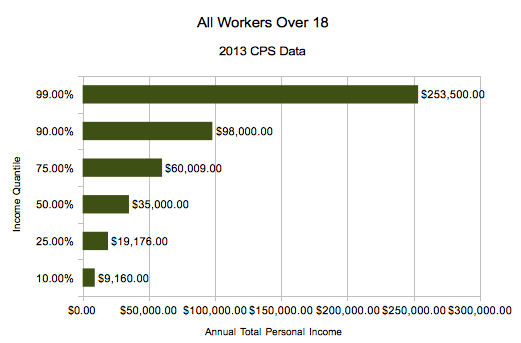 High Achievers: Full-time Workloads and at least a Bachelor's Degree
The following graph takes just the target of this article:
Total personal incomes
Reported working at least 40 hours in the March 2013 Current Population Survey
Are at least 24 years old (we allowed 6 years after 18 to cover most Bachelor's and Master's earners)
Reported achieving at least a Bachelor's degree in the March 2013 Current Population Survey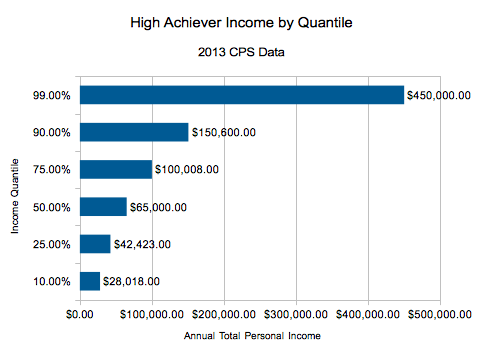 Source on Graduating College and Working Fulltime Data
We downloaded the CPS microdata from the University of Minnesota's Minnesota Population Center's IPUMS-CPS site.
Miriam King, Steven Ruggles, J. Trent Alexander, Sarah Flood, Katie Genadek, Matthew B. Schroeder, Brandon Trampe, and Rebecca Vick. Integrated Public Use Microdata Series, Current Population Survey: Version 3.0. [Machine-readable database]. Minneapolis: University of Minnesota, 2010.
 The High Achiever Types
Consider this article my thanks for the high achieving types who subscribe to this website – we appreciate it.  We wanted you to be able to compare your earning power to your peer group.
When we see statistics in the media, it's always tempting to compare ourselves straight up to what is presented – even though by choice or by luck we find ourselves in a different demographic bucket.  Resist the temptation to make those comparisons without carefully considering what is actually being measured by a statistic.
So, if you count yourselves part of the "Bachelor's Plus Full Time Job" crowd – here's your peer group, financially exposed.  We hope this sheds an interesting light on previously hidden data.  We'll have some more deep cuts into the 2013 income data in the coming posts.